This healthy Spiced Green Schug Sauce pairs perfectly with the hummus and muhammara pictured above.
Made from superfood herbs, Schug is fantastic with everything from crackers to crudites and more.
Spiced Green Schug Sauce
Schug, pronounced skoog, and also spelled zhug, zhoug, zhough, is a Middle Eastern condiment often made with spicy green peppers, herbs (cilantro, parsley, mint), and olive oil.
What is Schug Chili Paste?
Schug is considered a hot sauce or a chili paste and is a spicy staple in Middle Eastern households.
Schug: Pesto Without Pine Nuts
My Schug recipe is very mild and almost like a pesto without pine nuts.
What Does Zhug Mean?
According to Wikipedia, zhug means to pestle or crush (in Judeo-Yemenite Arabic), which we do in this recipe but with a food processor.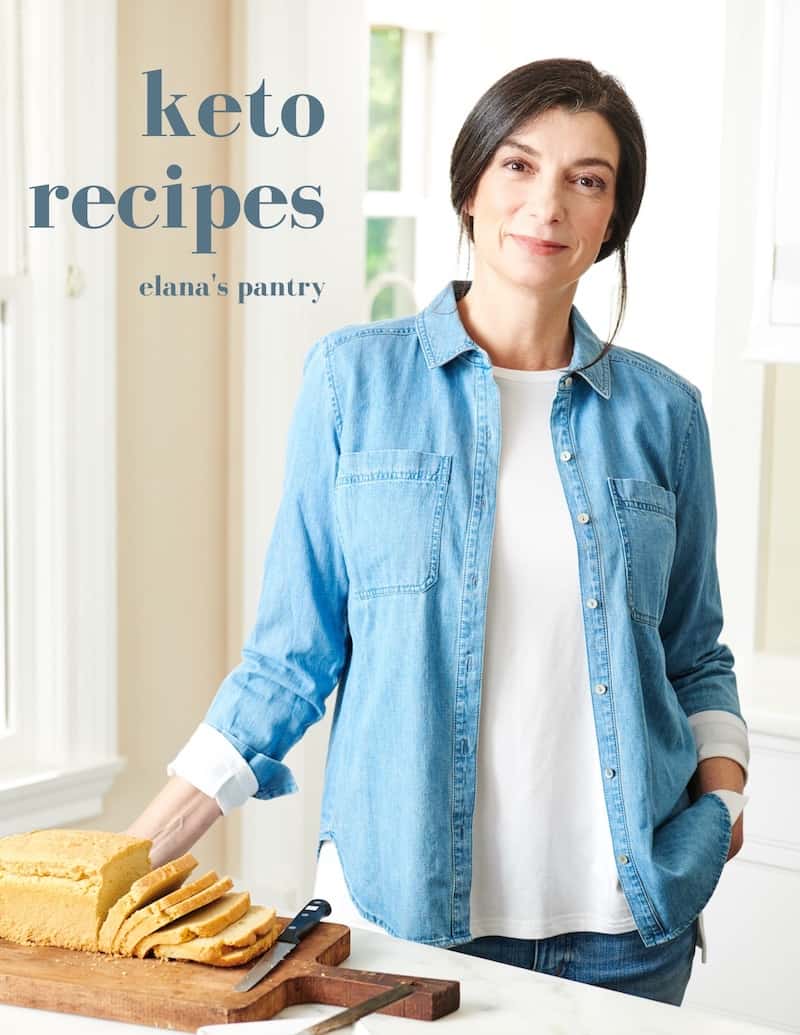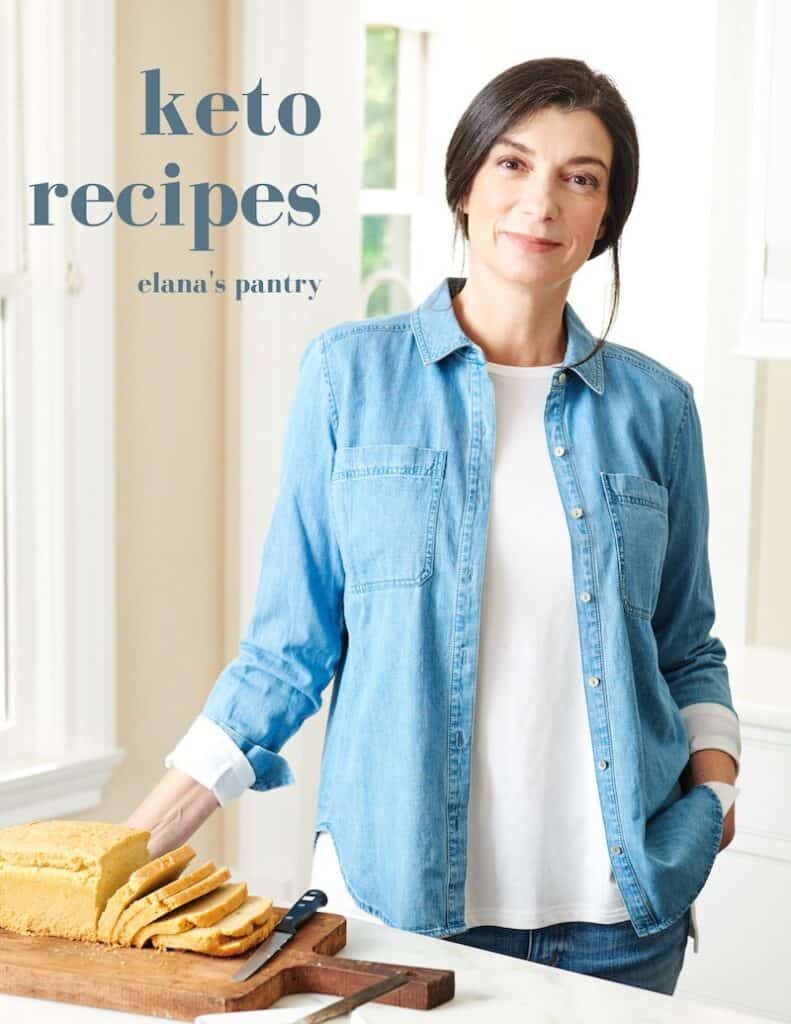 Get My Keto Recipes eBook
Free exclusive eBook, plus recipes and health tips, delivered to your inbox.
Spiced Green Schug Sauce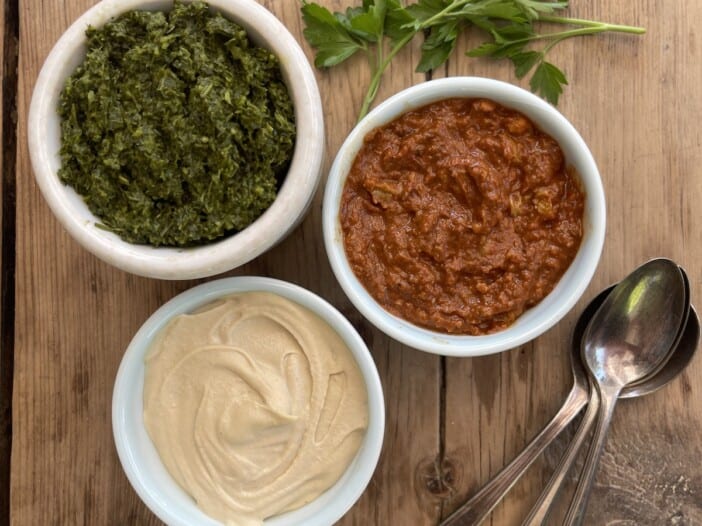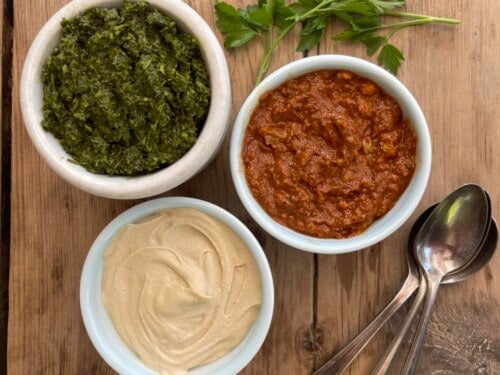 Print
Email
Pin Recipe
Ingredients
2

cups

parsley,

tightly packed

2

cups

cilantro,

tightly packed

2-3

cloves garlic

1

jalapeño pepper

1/2

teaspoon

celtic sea salt

1/2

teaspoon

black pepper

1/2

teaspoon

cumin

1/2

teaspoon

coriander

1/4

teaspoon

ground cardamom

2

tablespoons

lemon juice

2

tablespoons

olive oil

1

tablespoon

water

if needed to blend together
Instructions
Pulse 5 times, then scape the bowl if necessary

If mixture does not come together add water and pulse again

Store in the refrigerator for up to 2 weeks
I love adding a small handful of other fresh herbs to this Schug recipe to kick the flavor up a notch.
Can I Add More Herbs to Schug Spiced Green Sauce?
When I last made this Schug, I added a small handful of basil from our garden and around a tablespoon of oregano. The resulting flavor was even more complex and delicious.
Schug Superfood
My zesty Schug can be used as a dip, sauce, or spread and is packed with nutrients, given that it consists of greens and healing spices like cardamom.
Sababa Cookbook
My Schug recipe is based on one from Adeena Sussman's fabulous cookbook Sababa.
When one of our boys came home for a visit recently, he pulled out Sussman's tome of Middle Eastern classics from the bookshelf in my office.
Spiced Green Schug Sauce Recipe
When our son left, I began revisiting this healthy cookbook, flipping through Sussman's gorgeous recipes, and stopped at her schug sauce.
Eating Plant Forward
The photo of schug in Sababa looked so healthy and green, plus I've recently become more "plant forward," so I decided to make it.
Sussman's Schug recipe is far spicier than mine. She uses 20 cloves of garlic and a dozen jalapenos. My recipe is suitable for more delicate American taste buds like mine.
What Can I Serve with Spiced Green Schug Sauce?
By the way, our son made Sussman's Green Shakshukah, a simple dish that originates in Northern Africa, consisting of vegetables with eggs poached on top.
Schug Spiced Green Sauce would be unbelievable on any shakshulah –red or green.
Hummus and Schug
I love stirring Schug into my homemade hummus and then dipping carrots, celery, radishes, and jicama in it for a healthy, satisfying snack or appetizer.
What Will You Serve with Schug Sauce?
What will you serve with your Schug when you make it?