The salmon series continues, as does my love affair with Cook's Illustrated. The recipe below is another one that I have adapted from this fantastic magazine.
On the comments front, my cup overfloweth. I am so happy with the participation, support and community that is developing on this site. Recently, one of my favorite readers, Courtney, asked a question about meal planning. If any of you have suggestions, please feel free to offer them to her in the comments section. You may also notice that I have recently added a feature whereby the most recent comments are posted on the bottom right side of the page (towards the end of the navigation bar). This is a good way to stay current on all the chat that is happening over here between readers. A wonderful way that we can all learn more from each other.
Salmon with Cucumber Chile Relish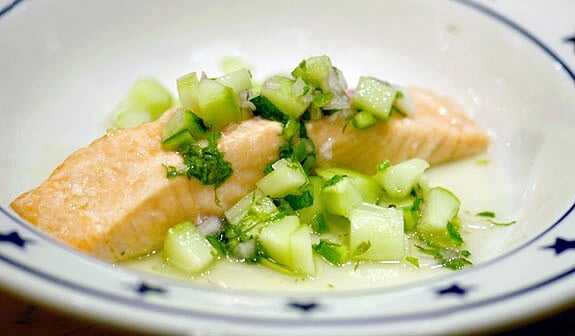 Print
Email
Pin Recipe
½ pound salmon
1 tablespoon olive oil
¼ teaspoon celtic sea salt
1 medium cucumber, peeled, seeded and diced
1 shallot, minced
1 serrano chile, remove seeds, minced
2 tablespoons mint leaves, minced
¼ cup lime juice, fresh squeezed
Turn oven on to 500°F

Cut fish into 2 pieces, leaving skin on; rinse and pat dry with

paper towel

Place fish skin side down on a metal

baking sheet

Rub fillets liberally with olive oil, then sprinkle with salt

Reduce oven temperature to 275°F, then put sheet with salmon on lowest rack

Roast 8 to 13 minutes –so that centers of thickest part of fillets are still translucent when cut into with a

paring knife

To make relish, stir together remaining ingredients from above in a

medium bowl

Remove salmon from oven, transfer to plates and serve with relish
Prep Time 20 mins
Cook Time 8 mins
Total Time 28 mins
I like cooking salmon this way as it takes away the fishy flavor; adding relish completes the process of de-fishing the fish! This dish is great all year round, though particularly lovely for a spring dinner served with asparagus.