My teenage boys love these Pumpkin Spice Meringues. They plowed through batch after batch as I tested them. Yes, the boys are not only cookie lovers, they are meringue cookie lovers and devour my baking recipes. Right now they are asking for my Paleo Pumpkin Pie a couple of times each week. Of course I oblige! I am completely obsessed with pumpkin recipes, and especially pumpkin desserts now that fall is here.
The recipe for these Paleo Pumpkin Spice Meringues went through several iterations. The winning recipe is the one featured below in the grey box. Runner up, and a very close second, was a batch of Pumpkin Spice Meringues that had one-quarter teaspoon each of ginger and nutmeg, plus a pinch of cloves –all of the other ingredients stayed the same. This, more spicy formulation was the adult favorite. However, it was a bit too spicy for the boys, although they ate them all up just as greedily.
So here's my advice, if you like spicy food and are craving antioxidant rich, warming spices such as cinnamon, ginger, and nutmeg, use the aforementioned measurements for your pumpkin spice meringues. If not, go with the regular recipe below.
Pumpkin Spice Meringues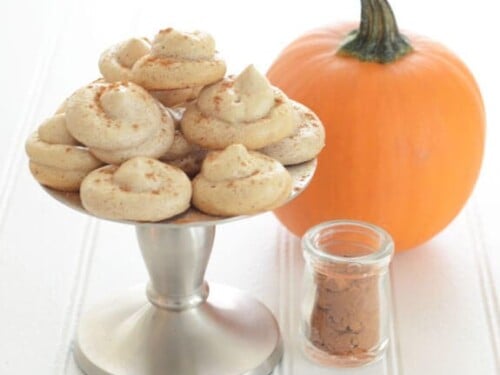 Print
Email
Pin Recipe
Instructions
In a

medium pot

, combine egg whites and maple syrup

Turn flame on to lowest setting possible

Using a

hand blender

with whisk attachment, whisk 4-5 minutes, until stiff glossy peaks form

Blend in spices

Fit a pastry bag with a ⅜-inch round tip (

ateco #804

) and fill bag with meringue

Bake at 200°F for 2 hours

Allow to cool for 1 hour

Serve
This recipe for Pumpkin Spice Meringue cookies is based on a Meringue Frosting recipe in my first book, The Gluten-Free Almond Flour Cookbook. Please note, You don't have to use a pastry bag for this recipe. You can drop the batter a spoonful at a time onto a parchment lined baking sheet, which might not look as nice, but will be quick and easy.
Another relevant note, these meringues do not taste nearly as good when made with honey. Although they work with honey in place of the maple syrup, it creates a strong, cloying flavor. They are much better with maple syrup. According to Martha Stewart, meringues can be made 5 days ahead and stored in a cool, dry place at room temperature. And although Martha uses a stand mixer to make her meringues, I simply use the whisk attachment on a hand blender to make these. In fact, I don't own a stand mixer.
As you know I am a big fan of all things paleo and pumpkin spice. If you are too, try my Pumpkin Spice Latte and take a look at all of my Pumpkin Recipes!