I love making paleo smoothies for my family. This Piña Colada Smoothie is a total winner in both flavor and nutrients! Made with 4 healthy ingredients, plus ice and a little water, you can easily throw it together for breakfast in the morning. It also makes a fantastic post workout snack when I'm craving protein.
Over last couple of months, several people have asked me what kind of protein powder I use when I make smoothies. My favorite protein powder is made of egg whites. I can't digest whey protein so this type is perfect for me! I love egg white protein because it's delicious, high in protein, and low in carbohydrates.
The boys love this high-protein Piña Colada Smoothie and I know you will too!
Piña Colada Smoothie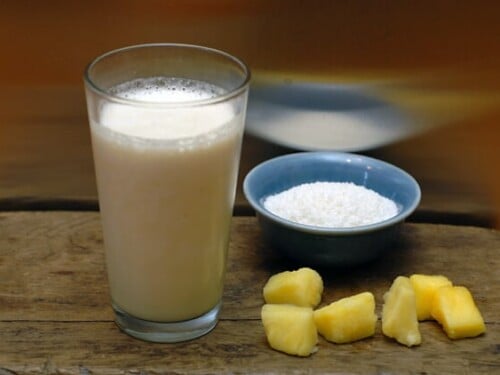 Print
Email
Pin Recipe
Instructions
Combine water, coconut milk, and frozen pineapple in a

vitamix

Puree on high speed until smooth

Blend in coconut oil and protein powder

Blend in ice cubes until smooth

Serve
Equipment
I'm heading out to San Francisco with my husband and the boys for the Blogher Food Conference where I will speak on a panel called Best Blogging Practices. This will be my first Blogher and I'm really looking forward to attending!
Since the Pioneer Woman featured me on her website I'm hoping to bump into her at the conference so that I can thank her in person!
Here are some other paleo smoothie recipes that use my favorite egg white protein powder!