This Paleo Chocolate Frosting is super easy to make. It's so rich and delicious that you might find yourself eating it by the spoonful! Made with just 3 ingredients –dark chocolate, coconut oil, and vanilla, it is a rich and creamy topping that will take your paleo desserts to the next level!
I designed this chocolate frosting recipe for my Paleo Chocolate Cupcakes, which my children, and their friends, have been gobbling up. I know I've got a good dessert on my hands when my children's gluten eating pals scarf down my gluten-free, paleo desserts, and then ask for more. These healthy paleo cupcakes smothered in Paleo Chocolate Frosting didn't last long at all!
Paleo Chocolate Frosting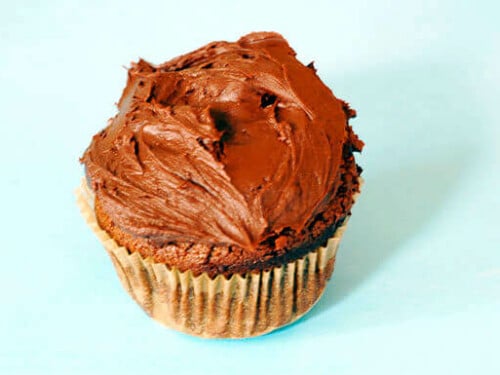 Print
Email
Pin Recipe
Instructions
In a small

saucepan

over very low heat, melt chocolate and coconut oil

Stir in vanilla extract

Place frosting in refrigerator for 15-30 minutes to thicken

Remove from refrigerator and whip frosting with a

hand blender

until thick and fluffy

Serve
I began creating this dairy-free frosting recipe a few weeks ago. While I was in the middle of working on it, I received a comment from a reader named Reggie, that contained a similar recipe to mine. At that point, I knew my recipe was going in the right direction.
If you're allergic to coconut, try my Chocolate Buttercream Frosting recipe, made with real butter, it's incredible! If you have a birthday coming up, make sure to use either of my incredible chocolate frosting recipes to top my Paleo Birthday Cake recipe!
Here are some of my fantastic paleo cupcake recipes that you can top with paleo chocolate frosting!