I thought these gluten free Peanut Butter Chocolate Chip Cupcakes would be a breeze to make. I was wrong. A dozen batches later, here is the recipe.
Peanut Butter Chocolate Chip Cupcakes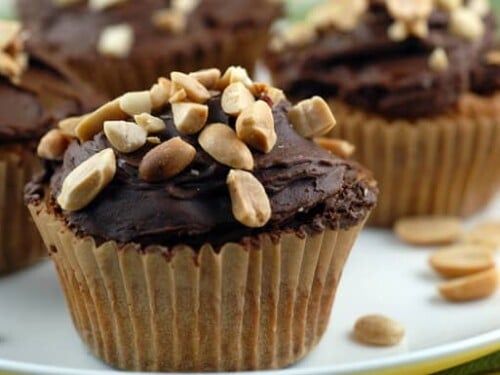 Print
Email
Pin Recipe
Instructions
Blend in salt and baking soda

Fold in peanuts and chocolate

Bake at 350°F for 20-25 minutes

Cool for 2 hours

Top with Vegan Chocolate Frosting

Serve
Just a warning, my cupcakes were a little "sinky," meaning they kinda collapsed after I took them out of the oven. This is easily remedied by adding more frosting to the top, to disguise the divet. Enjoy!
I seem to be receiving an extraordinary amount of ingredient substitution/recipe modification queries not only on this website, but on my twitter and facebook accounts as well.
I do want to note, that for this recipe (and all of my others) feel free to change any of the ingredients you wish. I cannot, however, project how the recipe will turn out with honey instead of agave, egg substitute instead of eggs, chunky peanut butter instead of smooth, etc. I create hundreds of recipes each year, testing several recipes each day, some of them many times over just to get them exactly right using the very specific ingredients that I use. Unfortunately, I don't have any way of determining if your substitutions will work when you experiment.
Why is this? I don't want to lead any of you astray and give advice on something that I haven't tested myself (and ingredients I haven't used) as I really don't think that would be fair to you all. What I can recommend, is taking a look at my forums for advice from others on how they have adapted my recipes.
For now, there is only one of me… so I want to give a major shout out to all of you readers who come onto my site (and Facebook and Twitter) and share substitution results in the comments of this site and in the forums. Thanks a million!!!