When I shared my Paleo Birthday Cake recipe with y'all a couple of weeks ago I mentioned that I had also created a Chocolate Buttercream Frosting. So many of you asked for that recipe that I had to oblige! This 2-ingredient Chocolate Buttercream Frosting recipe is amazing in many ways. First, and foremost, it tastes incredible. Second, it is super easy to make. Finally, because it's made with 77% dark chocolate, it is very low in sugar.
This Paleo chocolate frosting is very ganache-like in that it can harden quickly when it cools off. If you are finding it challenging to work with, simply heat it very gently and re-blend. If your frosting mixture does not soften at all, it means your chocolate has "seized." Dark chocolate seizes when it is heated to temperatures above 118 degrees. At that point it goes from a gorgeous shiny velvet texture to a dull clumpy rock-like mess. I don't think chocolate is salvageable once it seizes. If you know otherwise please leave a comment and tell us your trick!
Chocolate Buttercream Frosting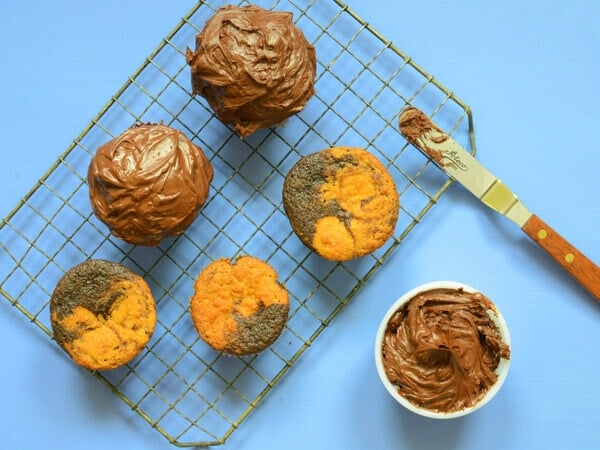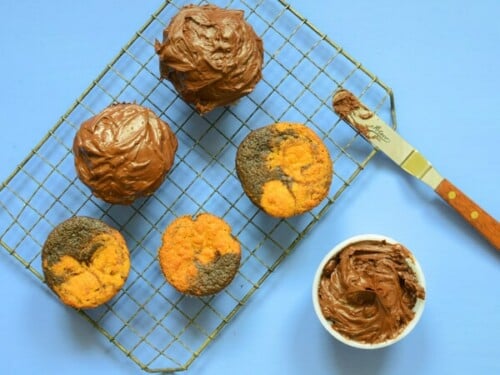 Print
Email
Pin Recipe
Instructions
In a

saucepan

over very low heat, melt chocolate and butter, stirring constantly

Place mixture in refrigerator for 20-30 minutes to chill

Remove from refrigerator and whip with a

hand blender

until thick and fluffy
I used 77% dark chocolate for this recipe from an incredible local company called Chocolove, but I've linked to a different product in the recipe above to give you another option. If you decide to substitute a lighter or darker chocolate this frosting recipe may fail as you will be altering the ratio of fat to sugar. Although seemingly insignificant this change will require steps to adapt to a new, and substantially different ingredient. If you do swap ingredients please leave a comment to let us know how your substitution goes.
I photographed this Chocolate Buttercream Frosting recipe on top of my Paleo Marble Cupcakes. These cupcakes are made with butter and maple syrup so the vanilla part looks a bit dark. If you'd like me to share this Paleo cupcake recipe let me know and I'd be happy to do so in the next few weeks.
If you are using this frosting to spread over my Paleo Chocolate Cupcakes one batch will be sufficient. If you're making it for Paleo Birthday Cake you'll need a double batch of Chocolate Buttercream Frosting. And by the way, my Paleo Birthday Cake recipe is not just a gluten-free, grain-free dessert, it is also nut-free! I have hundreds of nut-free recipes, for those of you with nut-allergies.