A giant stinging nettles bush climbs up the side of the little red barn in my backyard. Although we've been in this house for 9 years, it's taken me half that time to pay any mind to it.
The bush literally caught up with the boys first; they complained that it "bit" them whenever a 3-way collision of plant, child and a baseball occurred. Back in those days, with 2 little ones, and always in a rush to clean something, cook something, or get somewhere, I would file this semi-monthly complaint along with all the others. Finally, I figured out what this mysterious plant was, and that while I needed to keep the boys away from it, it might be advantageous to get myself closer.
Moving to the present, I have entered into a culinary relationship with the nettles plant in my backyard. A wild edible, in my opinion, nettles is both superfood and superherb. Nettle leaf is thought to be anti-inflammatory, helpful with seasonal allergies and calming to the nervous system. Nettle root is regarded in herbalist circles as a natural aromatase inhibitor, meaning that it has been shown to prevent the "good" hormones from turning into "bad" hormones, that is, the type of bad hormones that cause cancer and other dis-ease.
This raw Nettles Pesto does taste very healthy, however, I couldn't stop eating it and neither could my tasters. This naturally gluten free pesto has a slightly astringent taste, the strong flavor of basil and a nice lemony tang to it. If you decide to find yourself a nettles plant and make it, I hope you'll stop back by to let me know your impression.
Nettles Pesto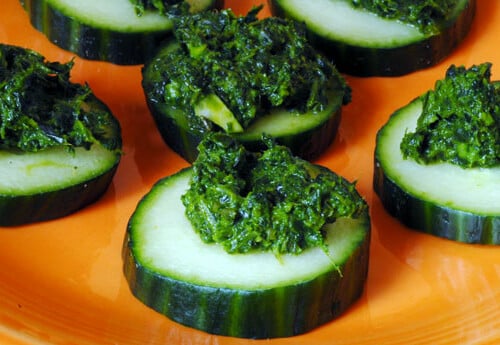 Print
Email
Pin Recipe
Ingredients
2

cups

stinging nettles leaves,

packed

1

cup

basil leaves,

packed

3

tablespoons

lemon juice

3

tablespoons

olive oil

2

medium cloves

garlic,

coarsely chopped
Instructions
Place nettles leaves, basil, lemon juice, olive oil and garlic in a

food processor

Pulse ingredients until almost smooth

Serve on cucumbers, yellow peppers, or crackers
Equipment
According to Wikipedia:
"Stinging nettle has a flavor similar to spinach when cooked and is rich in vitamins A, C, iron, potassium, manganese, and calcium. In its peak season, stinging nettle contains up to 25% protein, dry weight, which is high for a leafy green vegetable. The young leaves are edible. Nettles can be used in a variety of recipes, such as pesto. Nettle soup is a common use of the plant, particularly in Northern and Eastern Europe.
Be advised, if you pick stinging nettles, you may want to wear gloves. When lightly touched, the leaves cause a mild rash. When I picked the nettles for this pesto yesterday, I again used my bare hands. My 12 year old wore gardening gloves and was even stung once through them. It is thought that deliberately stinging oneself with the nettles plant is a quick, easy, and free way to relieve symptomatic arthritic pain.
Last year, I did a little experiment and let the nettles sting me to see if it would heal any of my remaining symptoms from this diagnosis. Unfortunately, I can only report that the results of this investigation were inconclusive.