These cookies were inspired by Dorie Greenspan's delicious looking Molasses Spice Cookies which I saw in a recent Parade Magazine. I read Parade every weekend (it comes in our local paper), and I especially enjoy checking out the recipes in it and then renovating them for my gluten free higher protein desires.
Spice cookies are perfect for this time of year, a little zing and boost after the holidays and warming as well, which is nice given all of the cold spells we've been having here in Colorado.
Molasses Spice Cookies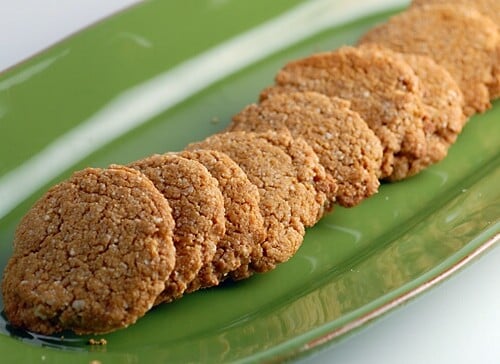 Print
Email
Pin Recipe
Instructions
Mix wet ingredients into dry

Bake at 350°F for 6-10 minutes

Cool and serve
For those wondering about my use of yacon syrup in this and other recipes, I have a section on my ingredients page regarding the benefits of Yacon syrup and the reasons I use it in place of molasses.
It's so nice to see food bloggers adapting recipes from The Gluten-Free Almond Flour Cookbook. Heather from the Heather Eats Almond Butter blog recently posted pictures of the Classic Carrot Cake (that she made into a birthday cake) from my gluten free cookbook. Johanna over at Slow Cooked RX posted her version of my Chocolate Chip Scones recipe using chia seeds and cocoa nibs. Check out her Cocoa Nib Scones recipe!
Stay warm and have a spicy New Year!