My dairy-free Mocha Mousse is an easy dessert recipe made with just 7 ingredients. You can whip up this paleo-friendly chocolate Mocha Mousse in just a few minutes. All you need to do is throw your ingredients into a food processor and voila, you have an incredibly rich and creamy dairy-free dessert. I like to serve Mocha Mousse in individual cups for an elegant presentation.
Dairy-free Mocha Mousse is wonderful all year round, but is a particularly fantastic when served as a healthy New Year's Eve dessert. When we entertain we generally have people with a variety of food allergies and food restrictions. I make my Everything-Free Brownies, for those who are on an egg-free diet. For the unlucky folks who cannot eat chocolate, I make my paleo Gingersnaps. I make sure to have something for everyone at all of our gatherings!
Mocha Mousse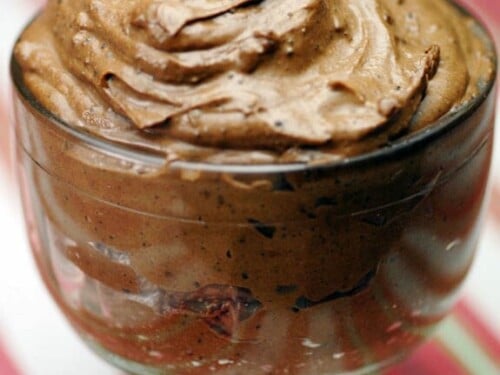 Print
Email
Pin Recipe
Instructions
Pulse in chocolate chips for 2 minutes, until well ground

Pulse in shortening, espresso, cinnamon, vanilla, and coconut sugar

Process until mixture is consistency of mousse

Serve
A call to all the experts out there on the paleo and primal diets. Would you eat this dairy-free mousse? Do you think it's a paleo dessert, or is that term an oxymoron? How do you define paleo and what are your paleo health goals overall? Leave a comment and let us know!
For those of you that are on an egg-free diet, here are some of my paleo egg-free dessert recipes for you!