I love paleo granola! This healthy grain-free breakfast "cereal" is made of just 7 ingredients –almonds, macadamia nuts, pumpkin seeds, raisins, vanilla, cinnamon, and salt. Purely fruit sweetened and crunchy, it's a great paleo breakfast recipe!
I get a kick out of using the term "granola" to ridicule folks here in Boulder. However, when I'm feeling earthy, dousing myself in patchouli (which my husband dislikes to no end) I can easily apply the term to myself. Though I'm more a yuppie than a hippie. I guess that would make me a yippie.
Alas, I digress. I created this recipe for a crunchy live gluten-free granola back in 2002. And even though he's not a hippie, yippie or yuppie, my husband loves it, and so does my younger son. The little guy eats this healthy homemade granola with whole milk yogurt, which makes for a tasty and filling snack.
Paleo Granola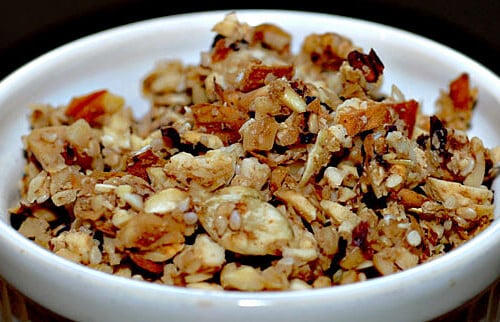 Print
Email
Pin Recipe
Instructions
Place nuts and seeds in a

large bowl

, cover with water and soak overnight

Place raisins in a separate bowl, cover with 1 cup water and soak overnight

Place raisins, along with their soaking water in a

food processor

and puree until smooth

In a strainer, drain and rinse nuts and seeds and discard soaking water

Add nuts and seeds to raisin puree in food processor and pulse until consistency of granola

Briefly pulse in vanilla, cinnamon, and salt to incorporate

To make live granola, place in oven on the lowest setting (usually 135°F) for 24 hours

For instant gratification, bake 45 minutes in oven at 250°F

Top with shredded coconut or dried fruit if desired

Serve
Total Time
1

day
8

hours
15

minutes
Enjoy this paleo granola recipe with fresh fruit and plain yogurt. Or as I do, simply by the handful. Paleo Granola is also fantastic with my homemade Almond Milk. If you have egg allergies, this is the perfect egg-free breakfast, and you'll also want to take a look at my Egg-Free Recipes page!
Here are some of my other healthy paleo breakfast recipes: