I thought y'all might enjoy some Paleo Mini Bagels for the holidays. Yes, I know this is not exactly a traditional holiday treat. However, as of late I've been going lower and lower in my carb consumption. I am truly digging the results I'm getting from ditching fruit and dessert and sticking to fat, protein, and vegetables. A low-carb diet seems to agree with my constitution!
So, what's a low-carb-a-holic to do during the season of desserts? That's where my gluten-free mini bagels come into play. Not only are they one of my festive favorites, the boys really dig 'em smothered in cream cheese and lox. I think they're the perfect after school snack for my growing guys. I've also taken these lovely little bagels to my synagogue where they were devoured by numerous Jews, which I think is a great sign when it comes to bagels.
Paleo Mini Bagels
Print
Email
Pin Recipe
Grease a

mini donut pan

with coconut oil and dust with coconut flour

In a

food processor

, pulse almond flour, flax meal, coconut flour, baking soda, and salt

Add eggs and vinegar and pulse until thoroughly combined

Fit a

pastry bag

with a ⅜-inch

round tip

and fill bag with batter

Pipe into prepared mold

Sprinkle bagels with poppy seeds, sesame seeds, and onion flakes

Bake at 350°F for 14-17 minutes, until a toothpick inserted into the center of a bagel comes out clean

Let bagels cool in the pan for 10 minutes

Serve
Prep Time 15 mins
Cook Time 14 mins
Total Time 29 mins
Please note, to make this recipe you will either need 3 mini donut pans, or you will need to bake the bagels in 3 separate batches.
This mini bagel recipe is basically the bagel recipe from my latest book, Paleo Cooking from Elana's Pantry made into little bagels and smothered in the delightful toppings of poppy seeds, sesame seeds, and onion flakes, it was my boys who asked for an everything bagel –i.e., a bagel with a couple of toppings. I use a mini donut pan to make these and I pipe them into that pan with a pastry bag.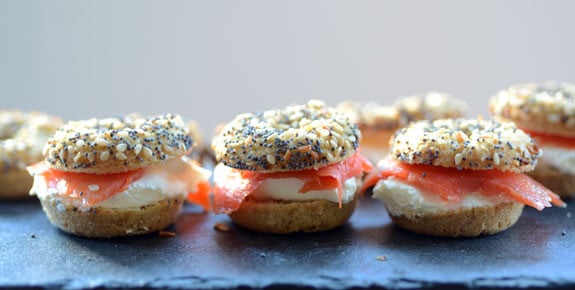 This high protein Paleo Everything Mini Bagels recipe is made with almond flour, coconut flour, and golden flax meal, and contains eggs as well. I haven't tried testing it with other ingredients –if you do, as always, please leave a comment with the changes you made to the recipe and also advise us as to how it turned out.
I hope y'all enjoy the bagels!