These Chocolate Whoopie Pies with Pumpkin Filling are not only gluten and grain-free, they're dairy-free and nut-free as well.
Whoopie pies are little cake-like cookies filled with a rich creamy center. I've long wanted to make a gluten-free, grain-free whoopie pie cookie with a dairy-free filling. These treats are perfect for Halloween. No silly, these are not for your trick or treaters, give them out at a gluten-free Halloween party or just as a fun snack to your own little ghosts and gobblins.
These nut-free whoopie pies are based on my Paleo Chocolate Cupcake recipe another gluten-free, nut-free dessert recipe that comes in quite handy around the holidays. I hope you enjoy this whoopie pie recipe!
Chocolate Whoopie Pies with Pumpkin Filling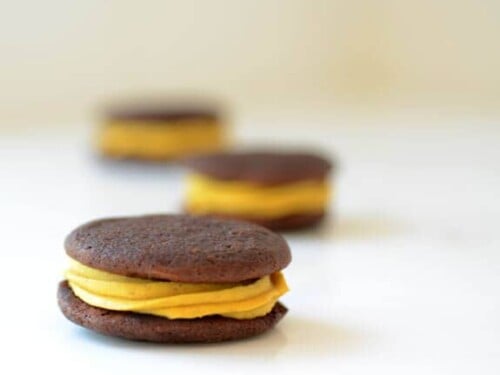 Print
Email
Pin Recipe
Wow, what a great bunch you are. I've been having so much fun with you on Facebook this past week with giveaways and various conversations about food and just generally living a healthy life. If you feel like you really need to be in touch with me, leave a message on my Facebook page. I stop by and answer personal questions at least once a week and post recipes, provide informational tidbits and host little discussions most days. I've really been enjoying getting to know you all better.
Here are some healthy candy recipes to serve at a gluten-free Halloween party!