Each year my husband requests my gluten-free Chicken Parmesan recipe for his birthday. It's his all time favorite dinner recipe!
My secret to a healthy twist on classic Chicken Parmesan is to coat the chicken breasts with almond flour, in place of wheat flour. Now, this healthy recipe can be a staple in every gluten-free family's dinner rotation, it is in ours!
My older son asks to have this parmesan chicken dish every week; for some reason (probably differentiation) my younger son complains about it, and then inevitably devours it. Enjoy.
Chicken Parmesan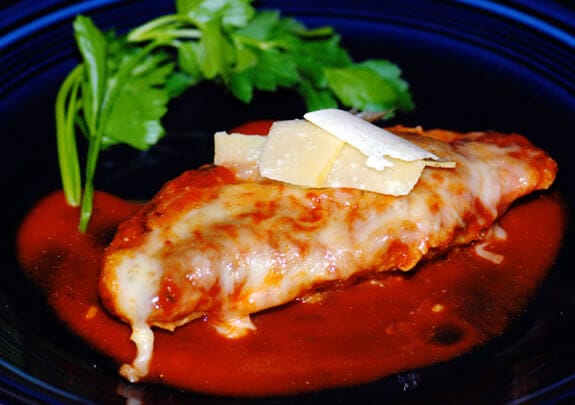 Print
Email
Pin Recipe
4 chicken breasts, boneless, skinless (1 to 1½ lbs total)
2 large eggs, whisked
6 tablespoons salted butter
2 (7 ounce) bottles tomato paste
2 cups water
1 teaspoon herbes de provence
6 cloves garlic, sliced
16 ounces mozzarella cheese
Cut chicken breasts in half for thinner cutlets; pat dry

Dip cutlets in egg, let excess run off then coat with almond flour

Melt butter over medium heat; sauté chicken until deep golden brown on both sides

Remove chicken and drain on

paper towel

For sauce combine tomato paste, water, Herbes de Provence, and garlic in a pan

Simmer for 15 minutes

Place ½ cup tomato sauce on bottom of a

7 x 11 inch baking dish

Place cutlets in a single layer; cover with remaining tomato sauce and mozzarella

Bake at 400°F for 10 minutes

Serve
Prep Time 20 mins
Cook Time 25 mins
Total Time 45 mins
Even though we are on different diets (my older son and I have celiac disease and my husband and younger son have no food restrictions at all), in our home we partake in one family meal. This way, we come together energetically –we share the same space, breathe the same air, and eat the same food. Plus, it's way easier for me to make one meal!
Here are some of my other healthy dinner recipes: