We celebrate Hanukkah during the darkest time of year. The Festival of Lights commemorates the miracle of the menorah oil that took place in the Jewish Temple long ago. To honor this divine intervention, we light the menorah and cook food in oil for eight days. Fried latkes are part of the Hanukkah celebration for Ashkenazi Jews and these Carrot Scallion Latkes are a wonderful update on that tradition.
Vegetable Latkes for Hanukkah
Typically made with potatoes, wheat flour, and eggs, latkes aren't generally thought of as a healthy food. But these Carrot Scallion Latkes are a game changer. They're gluten-free, grain-free, and compliant with the Specific Carbohydrate Diet (SCD). My Butternut Squash Latkes are another potato-free low-carb latke recipe.
Carrot Scallion Latkes
My younger son is the inspiration behind this recipe. He asked for a latke made with carrots and I could not refuse. Carrot Scallion Latkes are perfect for me because I gave up potatoes in 2001 when I went on the SCD. For a look at all of my SCD recipes check out my Specific Carbohydrate Diet Recipes page.
These Carrot Scallion Latkes are perfect for Hanukkah, but we love them so much we eat them all year round!
Carrot Scallion Latkes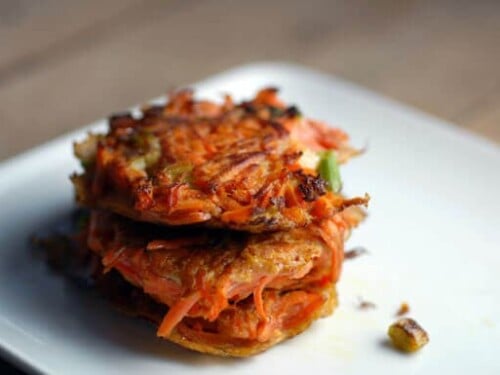 Print
Email
Pin Recipe
Instructions
In a

large bowl

combine carrots, scallions, and eggs

Stir salt and coconut flour into carrot mixture

Scoop large tablespoonfuls of batter onto skillet

Fry patties on each side over medium heat until browned and crispy

Repeat process with remaining batter

Serve with applesauce and sour cream or yogurt
At Hanukkah, we also make doughnuts, or donuts (in Hebrew we refer to them as sufganiyot) and other fried goodies. My Jelly Doughnut Cupcakes are a great stand in for deep fried doughnuts, and far easier to make!
Here are some other healthy Hanukkah recipes for you!