A piping hot bowl of this vegan Broccoli Soup is the perfect dish for today.  Why?  We're expecting a nice balmy high here in Boulder of 15 degrees, while we're buried in snow from yesterday's storm.
I was fortunate enough to spend yesterday, my Sunday, at a yoga class, and then hiking the gorgeous Mount Sanitas in the snow.  As you can see, thus far, the new year is treating me well.
If you're looking for a healthy soothing recipe to help kick off your new year, this is it.  Simple (this gluten free soup is made of a mere 5 ingredients), warming, and easy to digest, it's the perfectly healthy treat for cold winter days and nights.  Serve it with a salad and you have a quick and easy dinner that the whole family can enjoy.
Broccoli Soup
Ingredients
2 tablespoons olive oil
1 medium onion, chopped
1 ½ lbs broccoli (use both heads and stems)
2 quarts water
½ teaspoon celtic sea salt
Instructions
Heat oil in a large pot and saute onion over medium to low heat until soft, about 15 minutes
Add broccoli and saute for 5-10 minutes
Add water and salt and cook until broccoli is soft about 15 minutes
Puree hot soup in tiny batches in a vitamix until smooth and creamy
Reheat soup and serve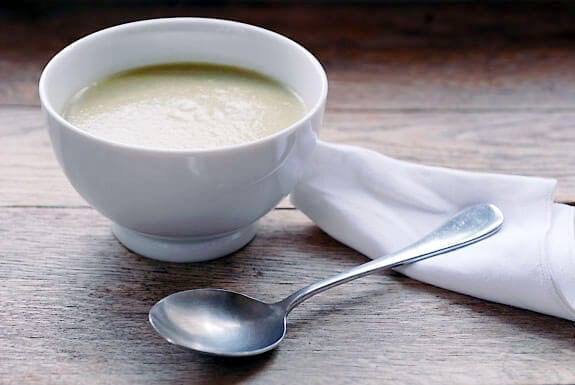 When looking for something warm and healthy to eat, I also like to make this Butternut Squash Soup and some of these other soups as well.
Here are some delicious looking soups from groovy bloggers:
–Broccoli, Garlic and Lemon Zest Soup (SCD) from Milk for the Morning Cake
–Broccoli and Arugula Soup from GOOP
–Mixed Mushroom and Veggie Soup from Gluten Free for Good
The winner of last weeks giveaway for an All-Clad 4-Quart Saute Pan is Caitlyn! Here's what Caitlyn said her favorite vegetable stir fry combo is:
"Juicy shiitake mushrooms sauteed and simmered in sesame oil with garlic, and caramelized onions. Then add roasted red peppers, green peas, and green onion. Add a touch of agave syrup salt and pepper to taste. And serve over a steamy bed of fresh brown rice. Enjoy and Bon appétit."
Congratulations and enjoy!