I am happy to introduce gluten free vanilla cupcakes with chocolate frosting and continue on my coconut flour recipe roll. I have been making (and testing) this dessert for close to two years and it is one of my personal favorites. I think it might be a hit with you too based on reports from taste testing friends.
Passover really threw me for a loop. It wasn't the guests we had visit for the holiday. It was the 100 matzo balls for my son's third grade seder. That, plus charoset and maror for everyone at the event. My house was overtaken by a cooking frenzy last week; I focused on that and nothing else (except my children).
Now everything has calmed down and I am happily back to this blog! I have been thrilled by the amount of chat in the comments over here. I have also received so many lovely emails from people thanking me for these recipes and all I can say is –you're welcome! It is wonderful to love what you do and ALSO be appreciated for it. That is the proverbial icing on the cupcake.
Vanilla Cupcakes with Chocolate Frosting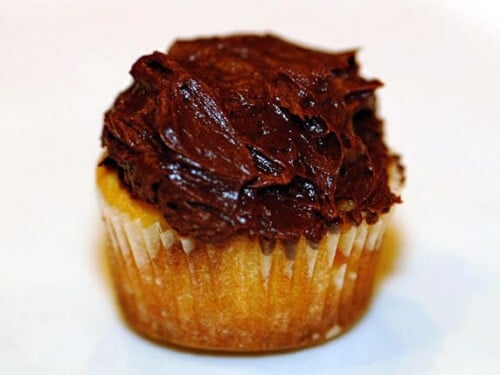 Print
Email
Pin Recipe
Instructions
In a

medium bowl

, combine coconut flour, salt and baking soda

In a

small bowl

, blend together eggs, grapeseed oil, agave and vanilla

Mix wet ingredients into dry and blend with a mixer or

hand blender

until smooth

Bake at 350°F for 20 minutes

Cool completely
My friend Patricia claims she and her son have fought each other over these cupcakes. I hope you like them as much as she does.