My favorite part of Super Bowl Sunday is the food. I love preparing healthy gluten free Super Bowl snacks for my boys and all of their friends.
I would love to say that the cute little gluten free cake pops above were assembled by my children. However, I made them, and as you can see my cake and candy decorating skills are on par with those of a 10 year old. Or maybe a 6 year old. In any event, when I was a child I loved crafty little projects like candy making and such. Obviously, I haven't had much practice since back then.
I hope you all enjoy these gluten free Super Bowl Cake pops! If you make them, please take a photo, as I would like to do a post sometime soon with all of your beautiful gluten free football cake pops.
Super Bowl Cake Pops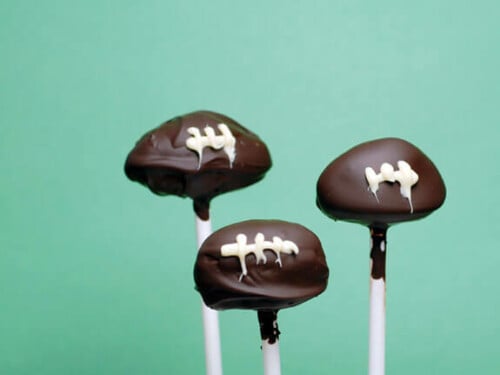 Print
Email
Pin Recipe
Instructions
Cool cake completely

Once cooled, crumble ½ of cake into a

large bowl

, making sure there are no large pieces

Mix raspberry fruit spread into crumbled cake, use back of a large

wooden spoon

to combine

Mixture will be moist enough to roll into 1-inch balls and still hold a round shape

After making balls, squish into an oval shape and pinch each end to make footballs

Place footballs on a

parchment paper

lined plate and place in freezer for at least an hour

Melt dark chocolate in a very small

saucepan

, over very low heat

Insert the lollipop stick straight into a (football) cake ball, no more than halfway through

Holding stick with (football) cake ball attached, dip entire cake ball into melted chocolate, until covered

Make sure chocolate coating meets at base of lollipop stick; this helps secure cake ball to stick

Twirl any excess chocolate coating off the cake pop so it is evenly coated

Place lollipop stick into a

styrofoam block

; allow chocolate coating to dry

Pipe white chocolate stitches onto football cake pops

Serve your healthier, gluten-free Super Bowl Cake Pops and wow your guests!
Here is a fabulous post by Bakerella with her football cake pops versus football cakeblobs. And don't forget to take a look at Bakerella's how to make cake pops video. It is indispensable when it comes to tips for how to make great cake pops.
Happy Super Bowl snacking everyone!