As I type this, my yard is overflowing with dark green leafy vegetables; they are literally taking over our tiny property. So what's a girl with a garden to do? Every morning I go outside, bowl and scissors in hand, and harvest greens.
I braise the greens with a bit of garlic and red pepper and eat them with a side of scrambled eggs, starting my day with a glorious Paleo breakfast. If I'm really hungry, I'll add a side of gluten free bread to this breakfast. Of course we have braised greens for dinner just about every night during this time of year as well. We have to keep up with the garden!
Generally, I harvest 3-4 ounces of greens per person, so in our house, this would be a recipe for one.
For those of you that want to know how many bunches this recipe calls for, I can't help with that, as my garden does not grow in bunches –I harvest individual leaves directly to a bowl. If you do figure how many bunches this recipe uses leave a comment and let us know. In terms of converting ounces to cups, I'd say that 4 ounces of chopped greens equals about 3 or 4 cups well packed cups.
Cooking tips? Here's what Renee from the website Kitchen Table Scraps, has to say, "cooking green vegetables too long will turn their color dark and murky and their texture to mush." So all you gardener/chefs out there, be sure not to overcook your greens.
Simple Braised Greens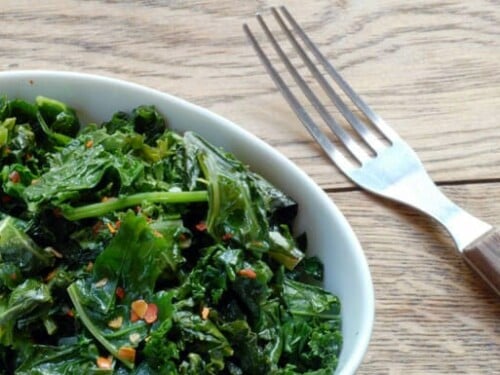 Print
Email
Pin Recipe
Ingredients
1

tablespoon

olive oil

4

ounces

mixed greens (kale, collard, mustard, or greens of your choice) about 3-4 cups chopped and well packed

1

clove

garlic,

minced

⅛

teaspoon

celtic sea salt

¼

teaspoon

red pepper flakes
Instructions
Add greens stirring to coat with oil

Stir until greens are barely wilted

Add garlic, salt and pepper flakes

Continue stirring until greens are tender

Serve
This easy side dish is great with any meal; you can try experimenting and adjusting the flavors to come up with other yummy recipes for greens. For basic instructions on how to prepare, wash and store you greens see my McKale post.
Here are some other healthy cooked veggie recipes to help you manage your harvest:
–Broccoli Rabe with Garlic
–Garlic Ginger Bok Choy
–Sautéed Kale