This Salmon Kabayaki recipe is as easy as it gets. All you need is 4 ingredients total to create one of the best fish dishes you've ever had. Although kids often don't love fish, my boys adore this and can't get enough of it.
Gluten-Free Kabayaki
The word "kabayaki" is a Japanese term that refers to a special preparation for fish that often entails a sweet soy-based sauce. Since I don't eat soy, I've come up with a soy-free kabayaki recipe here.
I often double this sweet and tangy fish kabayaki recipe since my boys enjoy it so much.
Salmon Kabayaki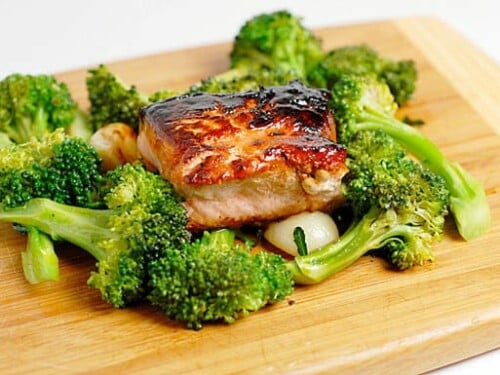 Print
Email
Pin Recipe
Instructions
In a small

saucepan

over medium heat, stir ume plum vinegar and honey

When sauce begins to bubble turn down heat

Simmer 4-5 minutes until thick enough to coat back of a spoon

Place salmon in skillet, do not allow fillets to touch

Fry salmon 2 minutes or until bottoms are browned

Brush kabayaki sauce on salmon

Flip salmon and brush other side

Fry for 1-2 minutes until fish flakes easily and is cooked through

Serve
How to Make Kabayaki Sauce
The first time I made this I burned the kabayaki sauce and had to toss it. The sauce was way too charred because I had left it on high-heat for too long. The next dozen times that I made it I had perfect success. Whatever you do, keep a close eye on the kabayaki sauce. It can be a bit fragile. Also, when frying the fish, be careful and keep children out of the kitchen.
This recipe is based on one from Jaden Hair's Steamy Kitchen Cookbook
. If you're looking for other healthy gluten-free dinner recipes check out my first book, The Gluten-Free Almond Flour Cookbook.
Healthy Low-Carb Dinner Recipes
This Salmon Kabayaki contains a fair amount of sweetener and so is not a low-carb dish. Here are some of my low-carb dinner recipes for you!