A couple of weeks ago I posted a recipe for Mexican Wedding Cookies and asked y'all what other Paleo Christmas cookie recipes you would like me to share. Here is a comment that was left by reader Marlene Placido requesting one of my all time favorite cookies:
I have been looking for years for a recipe for a raspberry thumbprint almond cookie… a traditional Christmas cookie from maybe one of the Scandinavian countries.
With only six ingredients total, my Raspberry Thumbprint Cookies are one of the easiest cookie recipes you can make during the busy holiday season. Looking for other gluten-free Christmas cookie recipes? Try my Star Cookies (which make wonderful rollout Paleo sugar cookies) or Gingerbread Men Cookies. Just be sure to use the recommended brand of almond flour –more on that below.
Raspberry Thumbprint Cookies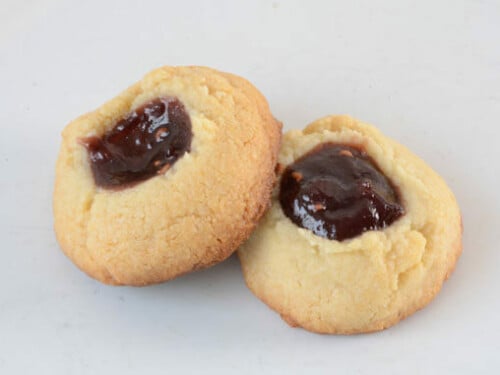 Print
Email
Pin Recipe
Instructions
Pulse in coconut oil and honey until dough forms

Press your thumb into the center of each cookie to make an indentation

Place ½ teaspoon of jam in the center of each cookie

Bake at 350°F for 8-10 minutes until golden brown

Let cool on the baking sheets

Serve
Wondering which types of almond flour will yield perfect results in this (and my other Christmas cookie recipes)? Check out my almond flour page. Please note, that there are certain brands of almond flour that will not work at all in my recipes; for more information please view the aforementioned almond flour page.
I've been making these healthy, lightly sweetened Raspberry Thumbprint Cookies for years, and they're one of my favorites. In Sweden they are referred to as hallongrotta, here they're known by many names including: jam thumbprint cookies, almond thumbprint cookies, and shortbread thumbprint cookies. Whatever you call them, they're absolutely delicious. Happy baking and Merry Christmas to you my dearest readers!