These deliciously moist gluten-free Pumpkin Pie Muffins are my younger son's favorite. When he was little, he ate so much pumpkin and winter squash that he turned a slightly orange hue from all of the beta-carotene. Luckily, his skin tone returned to normal!
Low-Carb Pumpkin Pie Muffins
I love cooking with pumpkin because it's low-carb and full of healthy nutrients. Given that this recipe also uses almond flour, which is far lower in carbohydrates than wheat flour, this is a fantastic low-carb muffin recipe. If you're following a low-carb, high-fat (LCHF) diet, you'll want to take a look at my Keto Diet Recipes page. All of those recipes are sugar-free.
Pumpkin Pie Muffins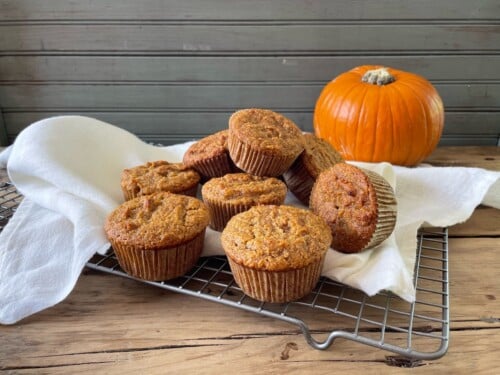 Print
Email
Pin Recipe
Instructions
In a

large bowl

combine almond flour, salt, baking soda, and pumpkin pie spice

In a vitamix puree honey, eggs, and pumpkin until smooth

Stir wet ingredients into dry

Divide batter between paper liners

Bake at 350°F for 30-35 minutes

Serve
Equipment
Gluen-Free Child-Friendly Muffins
These muffins are easy to make and will fill your kitchen with the wonderful smell of autumn. They are very moist on the inside. Beware of little children who gobble them up, leaving the wrappers strewn around your house! Not such a bad problem to have considering how nourishing these treats are.
Low-Carb Pumpkin Recipes
Here are some low-carb pumpkin recipes for you!