Peaches are in high season here in Colorado and we are making the most of it. This week I made a gluten free (of course), fruit sweetened, dairy free, vegan Peach Almond Ice Cream.
To increase the peach factor, I diced up more fresh peaches and mooshed them into the ice cream after it came out of the ice cream maker.
This is another recipe that is a bit more complicated than most, however, I found it to be well worth the effort. As I ate this Peach Almond Ice Cream, I was pleasantly surprised that so few (and such healthy) ingredients, could taste so good.
Peach Almond Ice Cream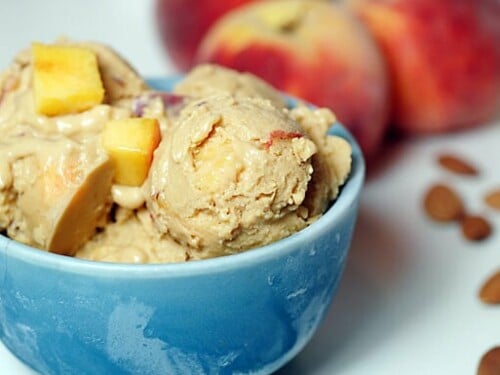 Print
Email
Pin Recipe
Instructions
Place soaked almonds and water in

vitamix

Blend on highest setting until smooth, about 1 minute, add a bit more water if blending is a challenge

Remove almond mixture from Vitamix and strain through a

strainer bag

, discarding solids

Place almond mixture in rinsed out Vitamix container, blend in peaches and dates on highest setting until smooth

Blend in stevia, vanilla and lemon juice
I hope you all enjoy this quick and easy, healthy frozen dessert recipe. I love that it meets the needs of of people on gluten-free and dairy-free diets. If you're wondering how to make ice cream without an ice cream maker, see my quick and easy 2-Ingredient Banana Ice Cream recipe.
I decided to pair peaches with almonds since agriculturally speaking they are close cousins and have somewhat similar as well as complementary flavors.
I am busy having a lot of fun doing interviews and planning signings for my book, The Gluten-Free Almond Flour Cookbook, which is now out!
I just finished up a radio interview with the lovely Niki Guluchi of Page 2 Pantry, you can listen to the program below: