This basic meatball recipe is easy to make. No frying! Flavored with shallot, tomato paste and a hint of Dijon mustard, these simple meatballs are incredibly tasty. My boys and their friends love them!
Meatballs are also a great make ahead dinner dish. Often, when I have a busy day, I'll make these meatballs the night before, let them cool, and refrigerate them. The next evening, I throw them in a baking dish with glass lid, cover them with a jar of my favorite tomato sauce, and heat the meatballs and sauce in the oven at 350º for half an hour while I get the rest of dinner ready. Lately, I'm in the habit of serving these over Paleo pasta, along with Caesar salad, and roasted broccoli.
Swapping out high-carb processed food such as pasta for super food vegetable noodles is a win-win. Sometimes I wonder why I ever ate traditional pasta. Vegetable noodles are just as good!
Meatballs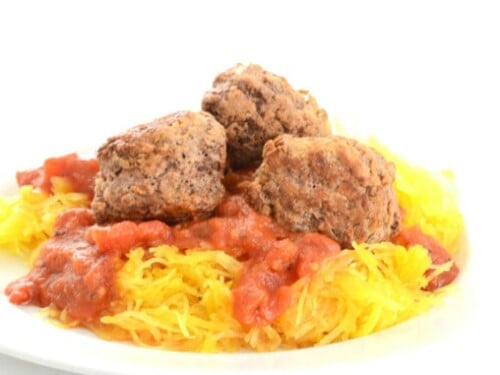 Print
Email
Pin Recipe
There's nothing like spaghetti and meatballs. It's a great comfort food dish and one of those rare dinners that everyone in my family loves.
Although it's not traditional, we often have Spaghetti and Meatballs on Friday nights for Shabbat dinner. What is your favorite dish to serve for dinner? Do you like beef dishes? Do you prefer chicken, or fish? Leave a comment and let me know!