Tomorrow is my birthday and the festivities have already begun! Last night my husband and the boys and I went out for dinner at our favorite local restaurant. At the end of the meal, my children wanted to order (and split) the Coffee Affogato –vanilla gelato drowned in a shot of espresso.
My husband and I pleasantly argued over the merits (none) and shortcomings (caffeine) of this dessert for several minutes while the children observed, amusedly. I was pro-affogato, my husband against. Given that I have tended to be the strict one in the house it was nice to be on the indulgent, lenient side of this debate, even though I lost. They had plain gelato which all-in-all was a delightful treat.
While my husband drove home (north), the boys and I took the long-cut on foot, south and strolled down by the creek. It was an excellent evening. Great fun with my favorite people. Tomorrow the festivities continue; we are having several families over for dinner to test out many new recipes that I have been working on this week. Here is what my email invitation said:
Date: Saturday, August 2nd
Time: 5:30
Where: My House
What: Bring children, bathing suits for them (we'll have the sprinklers on), baseball mits (for catch)
Don't: Bring food
No: Gifts Por Favor
So, as you see, we have big plans for tomorrow. I might even sweep the backyard; though probably not. Rather than cleaning, I imagine I'll be working on more recipes. I've been cooking up a storm lately and having great fun in the kitchen. Below is the pesto recipe that I created for tomorrow's bash.
Lemon Walnut Pesto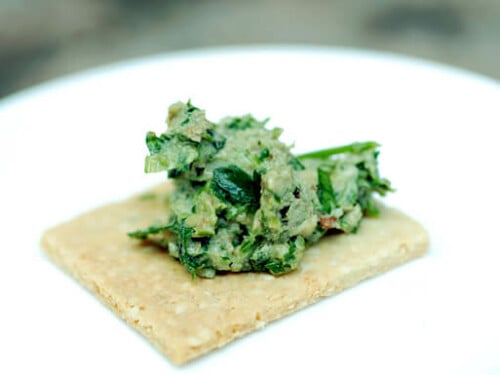 Print
Email
Pin Recipe
Ingredients
¼

cup

scallions, chopped

1

cup

parsley, chopped

1

clove garlic

½

teaspoon

celtic sea salt

2

tablespoons

lemon juice, fresh squeezed

¼

cup

olive oil

1

cup

walnuts
Instructions
Place scallions, parsley, garlic and salt in

food processor

and pulse until well combined

Turn on food processor and drizzle in lemon juice and olive oil

Add walnuts and pulse until incorporated
Equipment
I hope you all have a fantastic weekend and have as much fun with this tangy pesto as we will. Enjoy!