These Paleo friendly gluten free treats are a great addition to a high protein breakfast and also perfectly suited for dunking in healthy coffee for an afternoon snack that won't leave you dragging. My children like them too. So do their friends. I wish I could certify certain gluten free desserts that I make as "kid friendly," like some sort of good housekeeping seal of approval. Alas, no such luck.
If you are familiar with these treats it's because I posted them a long while back. I've been making them quite a lot recently and wanted to re-share with you so you can enjoy them as much as we do.
Lemon Almond Biscotti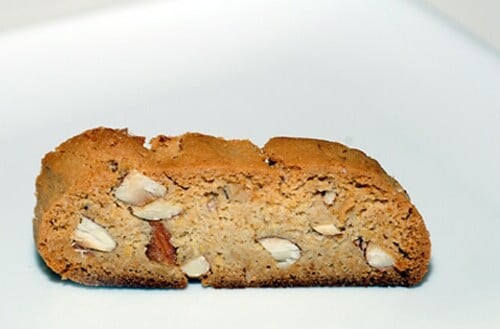 Print
Email
Pin Recipe
Instructions
In a

food processor

, combine almond flour, arrowroot powder, salt and baking soda

Pulse until ingredients are well combined

Pulse in agave nectar and lemon zest until the dough forms a ball

Remove dough from food processor and work in chopped almonds with your hands

Bake at 350°F for 15 minutes, then remove from oven and cool for 1 hour

Cut the logs into ½-inch slices on the diagonal with a very sharp knife

Spread slices out on a

baking sheet

and bake at 300°F for 12-15 minutes

Remove from oven and allow to cool, set, and become crispy

Serve
Total Time
1

hour
37

minutes
Summer is winding down over here and the boys are already back in school. They started on Monday, if you can believe that. We had a wonderful gluten free/Paleo summer with much baseball and great cooking and hikes. It was very satisfying and I think the boys were ready to head back into school.
Our biggest challenge this year is the bilingual program that both of the boys are enrolled in. They are learning Spanish with native Spanish speakers, and my older son, J is taking Geography class entirely in Spanish which I think is amazing.
Here's to hoping I can improve my Spanish while helping them with their homework and eating gluten free biscotti!