Have you ever tasted kelp noodles? They're delicious! Lately, I've been eating my fair share of this tasty low-carb noodle. They're my new favorite food. We eat these gluten-free noodles several nights a week with dinner. They're the perfect paleo pasta.
What are kelp noodles? They're simply noodles made from seaweed. These paleo noodles have changed my life because they're incredible in Asian dishes, which are a favorite of mine. Here's how to prepare kelp noodles!
Kelp Noodles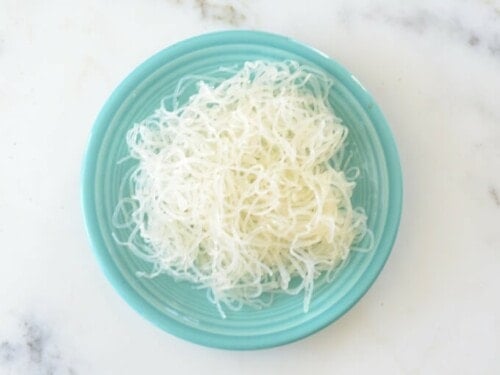 Print
Email
Pin Recipe
Instructions
Using a strainer, thoroughly rinse noodles

Fill with warm water, lemon juice, and salt

Let stand for 30 minutes

Rinse and strain

Serve
Equipment
Kelp noodles have a slightly crunchy texture that is different than that of traditional pasta. The soaking preparation method above will make the noodles far less crunchy. The lemon juice and salt do a wonderful job in softening the noodles so that they have an incredibly palatable texture.
My favorite way to serve this seaweed based noodle is in my low-carb Sesame Noodles recipe, a Chinese take-out style dish just like the kind we used to eat before I was diagnosed with celiac disease in 1998. Those were the days when I lived in New York City, stayed up all hours of the night working, and ate loads of Chinese food!
Here are some of my paleo condiment recipes that are delicious served over kelp noodles: