My boys and I are very into salads right now.  And It's my job to change it up with different and fun salad dressings to keep them interested.  The scrumptious salad above is 100% from my garden.  It includes a variety of lettuces, dino kale, tomatoes and cucumbers.  I love sending the boys out to "pick" a dish that we will be having for dinner, and it's great to hang out in the kitchen with them while they wash and chop the vegetables.
I find that gluten free salad dressings that have a little bit of tang and sweetness keep the boys interested in their veggies.  Here's one of our favorites.
Honey Mustard Dressing
Instructions
In a medium mason jar, combine apple cider vinegar, mustard, agave and olive oil
Shake well until combined
Serve over mixed greens
Store in mason jar in refrigerator for up to 3 days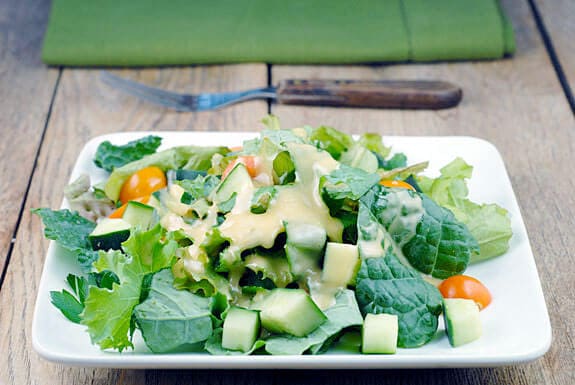 Did you know that today, September 13th, is Celiac Awareness Day? It is also the date of Samuel Gee's birthday. Samuel Gee is credited with being the first person to find a link between Celiac Disease and diet. He once said "if the patient can be cured at all, it must be by means of diet."
In honor of Celiac Awareness Day I'll be doing a book signing at the Whole Foods on Pearl Street in Boulder from 4:30-6:30pm tonight, September 13th. Hope to see you there!
The winner of last weeks giveaway for Feeding Baby Green
by Dr. Alan Greene is Jennifer Marie!  Here's what Jennifer had to say in hopes of winning Feeding Baby Green:
Oh…I'd love a how-to on feeding for my little men. We just began the foray into solids with our youngest this past month and he's not liking jarred baby food…can't say that I blame him.
If you haven't already, make sure to visit my Cauliflower Rice post to be entered in my other giveaway from last week for a chance to win a signed copy of The Gluten-Free Almond Flour Cookbook. 
If you would like an additional chance to win The Gluten-Free Almond Flour Cookbook Nuts.com is doing a giveaway on their Facebook page.