Tonight I had this conversation with my little boy while I was tucking him into bed:
"How do you know I love you?" I asked him
"You tell me 2 billion times a day," he replied.
"If I didn't tell you, how would you know? I asked.
"I can feel it in your hugs," he said.
That really got me. I try not to take things for granted in life. Like my children. Or hot showers. Or glass bottles that I get to keep after I'm finished with the food inside. It's the little things in life that make all the difference really.
Here's a little recipe that's making a difference in my kitchen. It's my new go to sauce for chili, bean dishes and pasta. The boys scarf it down and I love its versatility and flavor. The husband doesn't mind it either, in fact, he seems to likes it.
Homemade Tomato Sauce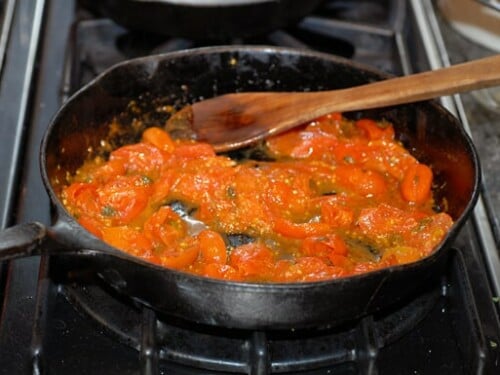 Print
Email
Pin Recipe
Ingredients
2

tablespoons

olive oil

1

onion,

diced

1

pint

cherry tomatoes,

sliced in half

1

cup

water

1

clove

garlic,

thinly sliced

1

tablespoon

dried oregano

½

teaspoon

chili powder

½

teaspoon

celtic sea salt
Instructions
Add onion and sauté until soft, about 10 minutes

Add cherry tomatoes, water, garlic, oregano, chili and salt

Cover and cook for 10-15 minutes over medium heat until tomatoes are soft and beginning to fall apart

Serve
Stay tuned. In the next few weeks I will post warm and comforting entree dishes over which you can serve this easy sauce.