Inspiration struck today. As did its friend creativity. The sun was bright for the third day in a row over here in Colorado and my faith in all things good returned. Whatever had a hold of me —seasonal affective disorder, Mercury in retrograde, who knows, who cares –it's gone! I took a long slow walk and saw the last patches of melting snow, flowers popping up through mud and upon arriving home, I observed sap running down the maples in my front yard.
Spring, glorious spring. Even if it's a taste, or just a tease, how it does brighten one's outlook! In celebration of this beautiful weather I made a raw recipe that was unusual, yet delicious. I think this gluten-free fig and olive tapenade would make a fantastic hors d'oeuvre for a dinner or cocktail party and goes nicely with my Paleo Walnut Crackers.
Fig Tapenade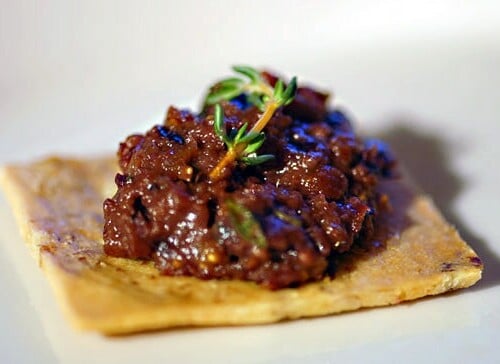 Print
Email
Pin Recipe
Instructions
Place figs in a

food processor

and pulse for 30 seconds, until well chopped

Add water and pulse to create a paste

Add olives and pulse until incorporated

Add olive oil, vinegar and thyme; pulse again for 30 seconds until tapenade is smooth
Equipment
Although I have several different paleo cracker recipes in my repertoire, I created my Paleo Walnut Crackers to accompany this Fig Tapenade. They complement each other nicely.
The lovely Anina, who I had the pleasure of meeting at the Valentine's cooking class I held in February, gave me the idea for this recipe. She told me about it during the class and then emailed me the epicurious.com version, which includes goat cheese, stewing the figs and a couple of other steps that I omitted in my quest to keep things simple. Especially with the warm weather approaching, I wanted to make this complex, sweet-savory dish raw and light.
I hope you like it. Please write up a comment if you have other suggestions as to good "vehicles" for delivering the tapenade –i.e., what would you serve it on?