These healthier gluten free brownies are the perfect Super Bowl snack. My family loved them and I'm hoping my guests will too when I serve these treats along with my gluten free Super Bowl Cake Pops come next Sunday when the Packers take on the Steelers and I have my big, bad, gluten free Super Bowl party.
These brownies use high fiber coconut flour and are based on a recipe by Michelle from Gluten Free Fix; her recipe is called Gluten Free Fudge Brownies and her creation seems to be more dense than mine, though these brownies are very rich and dense as well.
Double Chocolate Walnut Brownies
Instructions
Place ½ cup chocolate chips in food processor and pulse until the consistency of coarse sand
Pulse in coconut flour, salt and baking soda until combined
Pulse in eggs, honey, grapeseed oil and vanilla
Pour batter into a greased 8 x 8 inch baking dish
Sprinkle walnuts and remaining chocolate chips over batter
Bake at 350° for 25-30 minutes
Cool and serve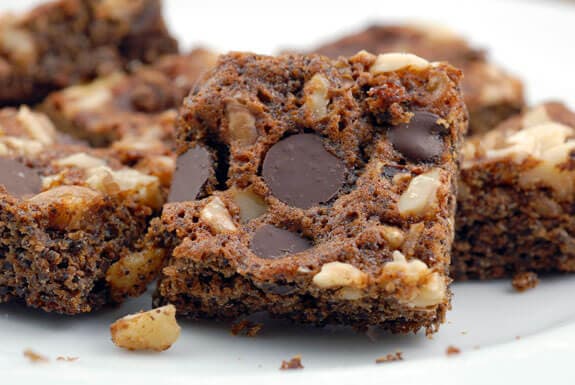 Here are some more yummy gluten free brownie recipes for your eating pleasure:
–Almond Joy Coconut Brownies from Baking and Boys!
–Hazelnut Brownies from Lexie's Kitchen
–Dark Chocolate Brownies from Gluten-Free Goddess
Brownies, even gluten free, can be a very personal thing.  Some people like a cakey brownie, some like a dense fudgey type brownie.  What type do you like?
Leave a comment below with a link to your favorite brownie recipe.