Recently, I created a flickr group so that all of you can share photos of recipes that you make from elanaspantry.com. I know that some of you enjoy uploading photos to the comments section and I love seeing your shots of my concoctions. So please, feel free to upload your pictures to the elana's pantry flickr group. Can't wait to see 'em!
The vegan cookies above are pictured with my cashew milk and were quite a lot of fun to make. Even more fun to eat. Here's my story.
I like to cook. Let's face it, I'm cooking all the time. It's an outlet for me. Kinda like painting a wall. I find the repetitive nature of baking especially soothing. Combine the dry ingredients, mix into the wet, bake, cool, etc. For me, it's pretty much the same every time.
I'm not always focused on the outcome of my baking adventures, though I am usually satisfied. Generally speaking though, it's not often that I get pumped up about a dish I make and become emphatic.
Today however, is altogether different. These cookies taste so good that I cannot stop eating them –they're slightly addictive, so watch out!
Double Chocolate Mocha Cookies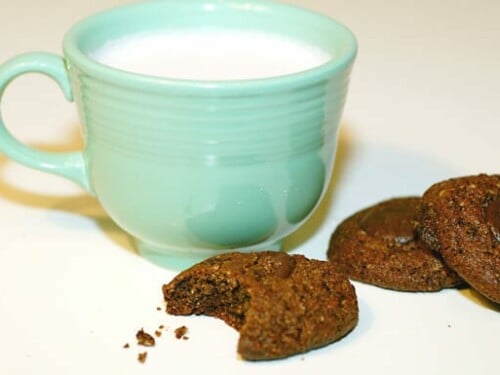 Print
Email
Pin Recipe
Instructions
In a

large bowl

, combine almond flour, cacao powder, ground coffee beans, baking soda and salt

In a

small bowl

, stir together grapeseed oil, agave and vanilla

Stir wet ingredients into dry and then mix in chocolate drops (or chunks)

Bake at 350°F for 7-8 minutes

Cool and serve
These cookies are based on a recipe by my favorite food blogger, Heidi of 101Cookbooks. Her recipe is called "Triple Chocolate Espresso Bean Cookies" and has candy coated espresso beans in it which sounds absolutely amazing!
I find her blog to be a constant source of inspiration. Further, in this recipe, I really like her use of ground coffee in the cookies.
Yes, this recipe uses plain old ground coffee in it!