Sleep is one of my favorite activities and has been key to my healing endeavors. I sleep a lot and I love it. So, today was very interesting. I arrived on set at 3:30 am to do a series of interviews about my favorite superfood (almonds) and had my green mint tea in hand to help me be wide awake –coffee doesn't really agree with my body.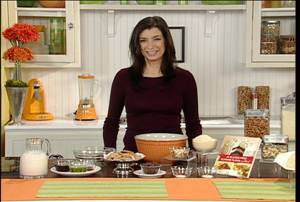 Working with the Almond Board of California to promote healthy eating has been more than fun!
I'm also really looking forward to tomorrow and continuing my almond tour; I'll be doing a book signing (and offering samples of my high protein, gluten free, dairy free Chocolate Chip Cookies) at Erewhon, here in Los Angeles. Hope to see you there!