These healthy, higher protein, gluten free Date Walnut Bars are a nice alternative to my more indulgent gluten free Cake Pops.  If you follow me on Facebook, you know I'm obsessed with cake pops.  After I put the words "cake pops" in my status update bar for the umpteenth time, one of my followers said, "yes, I have noticed them!" I think she may have had just a twinge if sarcasm in her response, though who can blame her.
Anyway, back to date bars.  Gluten free date bars.  Truly, these are a nice healthy treat for the new year.  We enjoy them for breakfast with a hot cup of tea, or for an afternoon snack, or for dessert following our dinner.
Date Walnut Bars
Instructions
In a large bowl, combine almond flour, salt, and baking soda
In a medium bowl, combine eggs, oil, honey, and vanilla extract
Stir wet ingredients into dry
Fold walnuts and dates into batter
Scoop batter into a greased 8 x 8 inch baking dish
Bake at 350° for 22-30 minutes
Cool and serve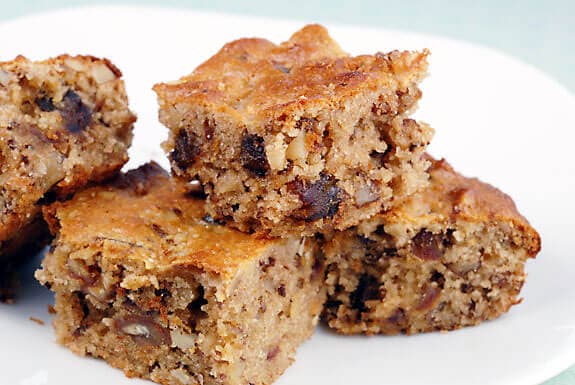 Both my husband and younger son really enjoyed this treat.  Of course, my older son barely noticed them since they do not contain chocolate.
Here's some other folks that have recipes for gluten free date bars:
–Tropical Pineapple Date Bars from Ginger Lemon Girl
–Peanut Date Bars from Food Sensitivity Journal
–Walnut and Date Bars from Jenn Cuisine
The winner of last weeks giveaway for a copy of Stephanie O'Dea's cookbook More Make It Fast, Cook It Slow
is Jami Fynboh!