This Creamy Onion Salad Dressing does have a bit of a zing to it, I admit. I like it though, as it's somewhat warming during the cold winter spell we're having. My younger son liked this gluten free dressing so much that he not only ate it on his salad last night, he drizzled it over his chicken, declaring it a winner.
The inspiration for this recipe came from Diana Rattray's Sweet Onion Salad Dressing over at About.com's Southern Food section.
It's snowing here today and the high is 23 degrees (right now it's a toasty 18 degrees). I will go out later this afternoon and pick more of the lovely, luscious salad (photographed above) from my cold frame. The cold frame keeps me in greens all year round. Forget expensive bags of organic lettuce from the health food store –shipped all the way from California to Colorado leaving a gigantic carbon footprint right on my dinner table. I am happy to say we have delicious, fresh picked, amazing greens right in my front yard (they cost pennies to plant).
We're living high on the hog this winter, high on the salad green hog that is. And since I like variety I am now endlessly inspired to come up with new dressings to eat on our home grown greens. Hooray!
Creamy Onion Salad Dressing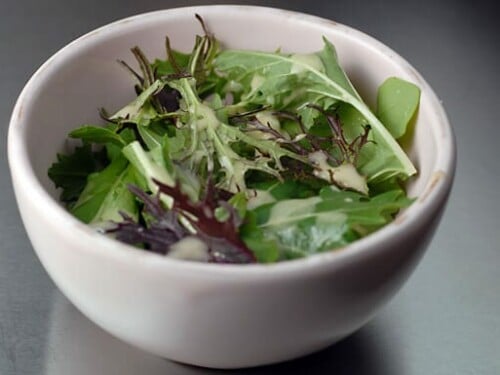 Print
Email
Pin Recipe
Instructions
Equipment
In other news (book related, that is) Yellowscene, a Colorado magazine, recently came out with their "gift guide" edition for the holidays and featured The Gluten-Free Almond Flour Cookbook in their locavore section for Boulder, Colorado.
On the web, one of my favorite sites, wellwire.com (check it out for sure, it's full of great information!), just posted their "Superfood of the Week," feature and this week it is almonds. The amazing Dr. Nishant Rao, wrote this post and highlighted what he called the "realistic and elegant recipes" in my gluten free cookbook, also saying that, "using almond flour as a base for your baked goods is really your best option. Your pancreas will thank you." I really like that last sentence, "Your pancreas will thank you." Those are the kind of accessible health and nutrition tips that you will find on the wonderful wellwire.
I was lucky enough to speak with the fabulous Paige from thesisterproject.com today. Paige has a friend Dori, who is friends with Helen, my best friend from childhood; so oddly, I feel as though I know Paige very well even though we've not actually met in person. Paige wrote a lovely post called "C'mon Get Healthy," including The Gluten-Free Almond Flour Cookbook and how it will be a part of her plan for keeping fit over the holidays. The Sister Project will be giving away several copies of my book, so head on over there to win yourself one!