This year, I'm making many of the holiday gifts that I'll be giving.  One of my favorite things to give, that you might also like to give to your friends and family, is this homemade cookie mix.
This high protein, gluten free cookie mix is quick and easy to make.  Further, you are giving a friend or loved one a very special present –the opportunity to have the smell of fresh baked cookies wafting through their home with minimal effort.  Here's what you'll need to make this fun DIY Christmas present.
Cookie Mix in a Jar
Instructions
Place dry ingredients in the 16 ounce mason jar
Place chocolate chips on top of dry ingredients in mason jar
Place wet ingredients in the 4 ounce mason jar
Punch a small hole at the top of your tag
Tie larger jar with ribbon and tag
Give the gift of high protein yum to a friend
Give them the link to this post so that they have the directions below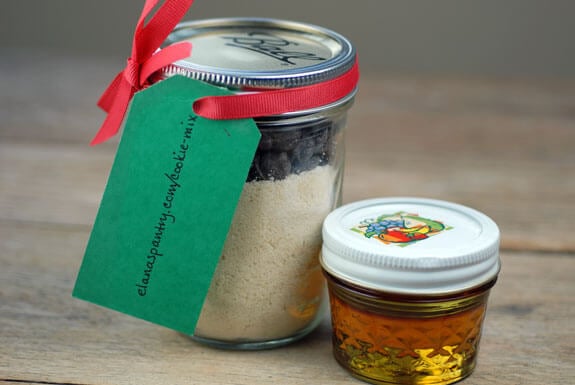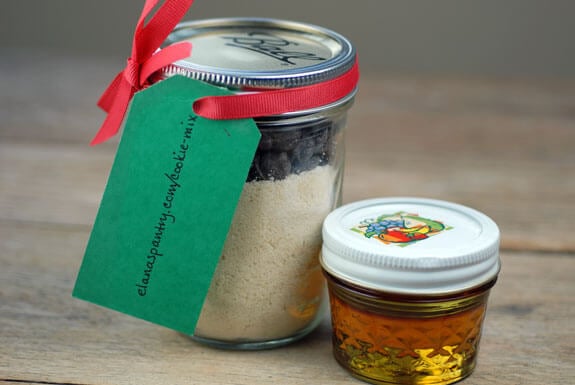 Cookie Baking Instructions
Place dry ingredients in a large bowl
Pour wet ingredients over dry and mix well to combine
Roll cookies into 1-inch balls
Place on a parchment paper lined baking sheet
Press balls to flatten
Bake at 350° for 7-10 minutes
Let cool for 20 minutes and serve
I'm giving away the cookie mix you see in the photo above, along with a copy of The Gluten-Free Almond Flour Cookbook. To be entered just leave a comment below. This giveaway is open to everyone, everywhere. I will pick the winner at random. The contest will end at midnight on December 12th, 2010.
UPDATE: This giveaway is now over. The winner of the cookie mix was Susan. Thanks to everyone who participated!