Paleo Chocolate Peanut Butter Whoopie Pies are a fantastic holiday treat. This year, I'll be making them for Halloween, along with my Paleo Bagels. My boys and their hungry friends are gobbling up the grain-free bagels faster than I can make them these days. They also love my healthy whoopie pies. I'll also be serving up all of these festive Paleo treats for Christmas and Hannukah.
If you're in need of a nut-free whoopie pie for the holidays, you'll absolutely love these, as the peanut butter frosting is made with sunbutter. You can also try my Chocolate Whoopie Pies with Pumpkin Filling, which are equally delicious and nut-free. All of my whoopie pies are easy to make, simply toss the ingredients in a food processor and then bake.
Chocolate Peanut Butter Whoopie Pies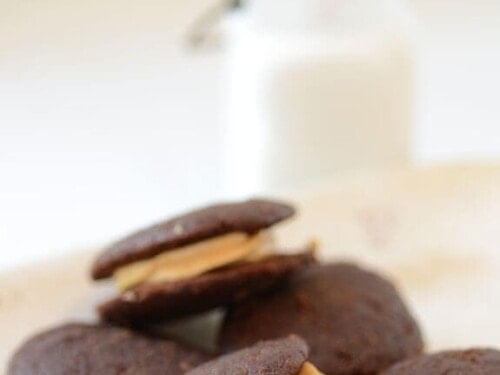 Print
Email
Pin Recipe
There's nothing like the combination of chocolate and peanut butter! If you're craving more of that combo, try my Nut Butter Cups.
I haven't tried making these Whoopie Pies without a food processor, or substituting any ingredients for the existing ones in this recipe. If you do, I hope you'll stop back by and leave a comment letting us know if your substitution experiments worked!
To keep up with all of my food experiments and daily happenings, check out my Instagram feed. I post a photo or two there daily of essential items like my garden, pantry, and spice drawer..