When I discovered that Starbucks was coming out with a Chestnut Praline Latte, I decided it was on! Yes, I'm taking on the behemoth of beverages with my healthy version of this festive holiday drink. Mine is made with real chestnuts, coconut milk, and nourishing Dandelion Coffee. According to Starbucks, their Chestnut Praline Latte contains "espresso, steamed milk, and flavors of caramelized chestnuts and spices."
Homemade Chestnut Praline Latte
Yes, I know it's mighty easy to go to Starbucks and order this super sexy drink. However, if you want to take the healthy, homemade route, make my version and have yourself a dairy-free Chestnut Praline Latte. It's easy to make and with only 6 real food ingredients you can have one of these bad boys in mere minutes!
Chestnut Praline Latte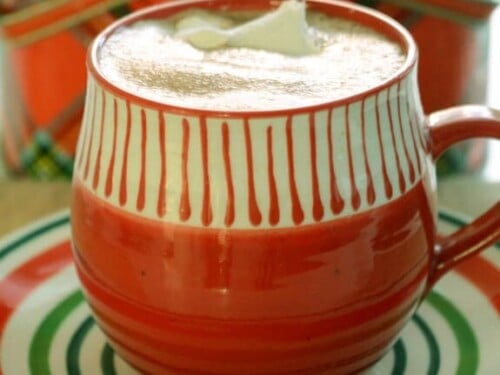 Print
Email
Pin Recipe
Instructions
In a

vitamix

, combine coconut milk and dandelion coffee

Blend in chestnuts, date, salt, and vanilla stevia until smooth

Garnish with coconut cream and cinnamon

Serve
Equipment
Dairy-Free Topping for Chestnut Praline Latte
For those wondering about garnishing the drink, it's a cinch. Just place a can of this full fat coconut milk in the fridge overnight, open it and scoop the creamy goodness off the top.
Low-Carb Chestnut Praline Latte
If you're following a Keto Diet, you can make this latte without the date. Use a few extra drops of stevia in its place and you will have a very low-carb latte. Even without this change to the recipe, my Chestnut Praline Latte is far lower in sugar than the real thing.
Healthy Starbucks Knock Off Recipes
This superfood latte is a healthy, hot drink that you can enjoy in peace at home during the holidays when you want to avoid long lines and hubbub at the mall. If you're looking for other healthy Starbucks knock off recipes, that you can enjoy in the comfort of your own home, try my Pumpkin Spice Latte and my Orange Cake.