These 6-ingredient Cherry Vanilla Power Bars are a fabulously healthy snack. Because they're a great source of energy, we like to take them on long walks and hikes, or as a healthy team snack when the boys have sporting events. They also pack very well for travel!
Because they contain so few ingredients, just almonds, flax, cherries, cranberries, vanilla stevia, and water, you can whip up Cherry Vanilla Power Bars in a few minutes. Fans tell me that they love my recipes because they couldn't be easier! Life is complicated, that's why I keep my recipes simple!
I use far more nuts and flax than fruit in this healthy power bar recipe in order to reduce the sugar content. Still, the amazing flavors of cherry and vanilla shine through in this no-fuss snack bar. We think this Cherry Vanilla Power Bar recipe is a fantastic homemade Larabar recipe. We also love that this paleo snack does not require any baking. It's great for those hot summer days when you simply can't bring yourself to turn on the oven!
Cherry Vanilla Power Bars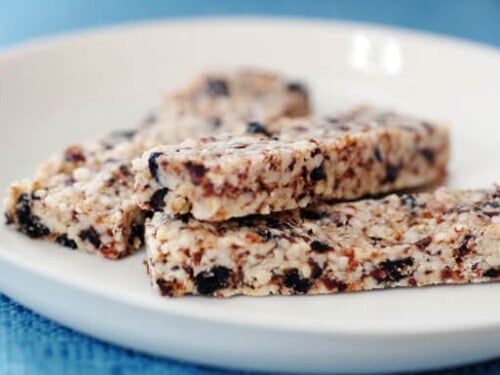 Print
Email
Pin Recipe
Instructions
Place almonds, flax, cherries, cranberries, and stevia in

food processor

Pulse until well ground, then pulse in water until mixture begins to form a ball

Serve
Lately, we've been making a lot of my paleo vegan recipes. Yes, if you can believe it, such a thing exists! Here are some of my other no-bake paleo vegan recipes: