I have been craving some good, healthy, tasty, gluten-free Bran Muffins for quite some time. Finally, thanks to flaxmania (I'm on a string of flax recipes this week) here it is.
My friend Chris was one of my guinea pigs for this baking endeavor. She took a flax muffin home from my house one day and ate it the next for breakfast. Later, I received a phone call from her requesting this recipe. I take that as a good sign since she does not have food restrictions.
Bran Muffins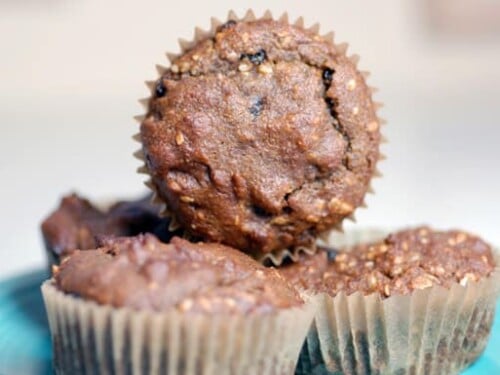 Print
Email
Pin Recipe
Instructions
In a

large bowl

combine almond flour, flax meal, baking soda and salt

In a

vitamix

blend dates, eggs, olive oil and water on high speed until very smooth

Mix wet ingredients into dry, then stir in sesame seeds, sunflower seeds and raisins

Bake at 350°F for 20-25 minutes

Cool and serve
Equipment
Well, at last, my book, The Gluten-Free Almond Flour Cookbook hits store shelves tomorrow!
As I mentioned in a previous post, I will be spending less time in the comments section of this site. In choosing how to allot my hours, I realize that (in addition to working on books) my top priority is to bring you as many recipes as I possibly can.
Because of this, I encourage all of you to network with each other. Feel free to answer as many questions as you like or if you have questions, do not hesitate to jump over to my FAQ page or post them in the forums in hopes that some other helpful reader will step in to guide you toward a satisfying answer.