Today was a big day –I taught the first in a series of cooking classes that I will be offering quarterly.
The theme of this class was Valentine's Day –we made the Cranberry Apricot Truffles that I have previously posted on this site, a new experimental flavor of truffles (to be revealed someday soon) and the black and white cookie recipe below, of course using heart cookie cutters, given our theme.
The class was held in the spiffy little commercial kitchen at my children's school in Boulder. It seemed as though fun and learning were had by all, as well as too much taste testing. We had to sample everything many times to try out all of the different versions and all were stuffed by the end. Alas, my poor taste testers.
Black and White Cookies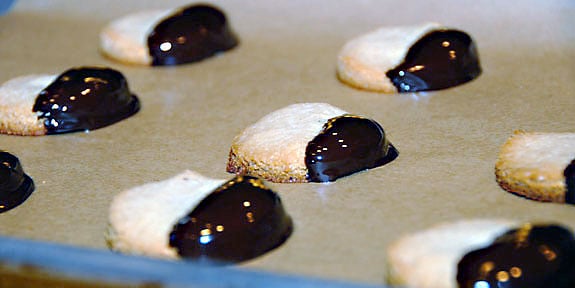 Print
Email
Pin Recipe
In a

large bowl

, combine almond flour and salt

In a

small bowl

, combine grapeseed oil, agave and vanilla

Stir wet ingredients into dry

Chill dough in freezer for 30 minutes

Between 2 pieces of

parchment paper

, roll out dough ¼ to ⅛ inch thick

Using a

2 inch cookie cutter

or the top of a 2 inch wide jelly jar, cut out cookies

Bake at 350°F on a

parchment paper

lined

baking sheet

for 5-7 minutes until brown around the edges

Cool for ½ hour

In a small

saucepan

, melt chocolate over very low heat, stirring continuously

Remove saucepan from heat and one by one, dip cookies into chocolate

Set cookies to cool on a parchment lined baking sheet --refrigerate if necessary to harden chocolate

Serve
Prep Time 10 mins
Freeze Time 30 minutes
Cook Time 15 mins
Total Time 55 mins
These vegan, dairy-free, gluten-free cookies are simple to make and super fun for children to roll out and cut into different shapes. The chocolate dipping part of the recipe is also a captivating activity for the little ones.