I created this easy Baked Apples recipe with a handful of incredibly aromatic ingredients. Stuffed with lemon rind, vanilla bean, dried fruit, and a dash of lemon juice this classic dessert is super healthy, yet incredibly decadent. I love making this as a shortcut to apple pie. To me, autumn isn't complete without this simple and sweet warm comfort food.
Child-Friendly Baked Apples Recipe
Since he was 5 or 6, my older son and I have enjoyed making these Baked Apples. It's our favorite fall ritual. By the time he was 8 or 9 years old, he began to make these while I was busy beside him with other cooking projects. He's very self-directed in the kitchen.
It's so easy for kids to core a couple of apples, stuff them with yummy ingredients, and then hand them over to Mom to place in the oven. Here's my recipe, you'll have to wait until my son starts blogging to get his.
Baked Apples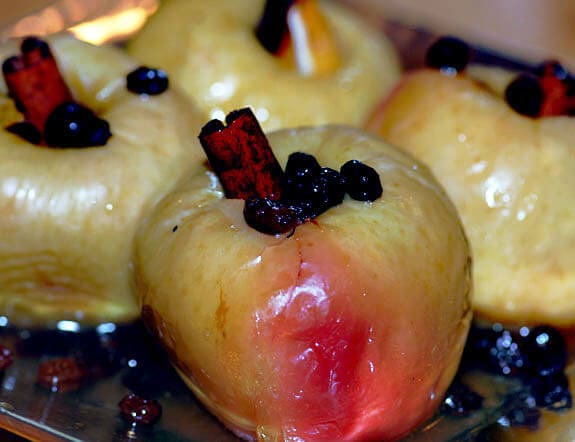 Print
Email
Pin Recipe
Stuff with lemon rind, currants, vanilla bean, and cinnamon sticks

Drizzle with lemon juice

Scatter remaining currants around apples

Bake covered at 350°F for 60 to 75 minutes

Serve
Prep Time 10 mins
Cook Time 1 hr
Total Time 1 hr 10 mins
Gluten-Free Vegan Dessert Recipe
These Baked Apples are an effortless, yet healthy gluten-free, vegan dessert. They're super satisfying on a chilly evening. To make a more decadent dish, drizzle with Almond Milk or top with my dairy-free Vegan Whipped Cream. For a super luscious dessert that's vegetarian, check out my How to Make Whipped Cream in a Mason Jar tutorial and top these Baked Apples with it.
Healthy Apple Recipes
Here are some of my other healthy paleo apple recipes for you! They're all so easy you can make them with your kids.
This post is an oldie but goodie from the archives, I first published it in 2007.