Acorn Squash with Cranberry Apple Stuffing is the perfect vegetarian Thanksgiving recipe. While it's easily one of my boys' favorites, I love it because it's festive yet can be thrown together quickly! Simply stuff acorn squash with chopped apples and dried cranberries, then spice with warming cinnamon. This is a very glamorous dish made with only 5 ingredients total.
Vegetarian Thanksgiving Dish
Although I'm not a vegetarian, I have tons of Vegetarian Diet recipes that might tickle your fancy. I created this Acorn Squash with Cranberry Apple Stuffing for the paleo vegetarians and vegans in my life.
Acorn Squash with Cranberry Apple Stuffing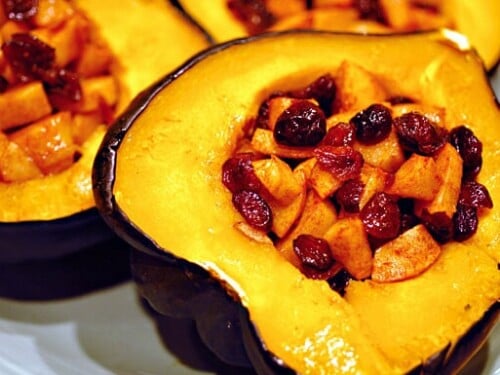 Print
Email
Pin Recipe
Instructions
Cut squash in half and with a spoon, remove pulp and seeds

Bake squash at 350°F for 30 minutes

In a

large bowl

, combine apples, cranberries, cinnamon, and oil to make stuffing

Remove squash from oven after 30 minutes

Turn halves over and stuff center of each squash half with apple mixture

Return to oven and bake for 30-45 minutes until squash and apples are tender
Total Time
1

hour
10

minutes
Vegan Thanksgiving Recipes
If you're on a vegan diet going without animal products is even more difficult during the holidays at family gatherings and such. If that's the case you may want to take a look at my Vegan Thanksgiving Recipes!
Giving Thanks at Thanksgiving
I am so blessed to be part of the incredible community that gathers here on my website, one in which we cherish food and hold it in such high regard. Unfortunately during these tough economic times, it is becoming increasingly true that food is a luxury.
With nearly 1 billion people going hungry on our planet every day, only some of us are lucky enough to have food to eat. Still a smaller portion of that population gets actual real, nourishing food, as opposed to the "foodstuff" created by corporate America.
Those who are discerning and make the choice to eat high quality food are the truly fortunate. Still, there are challenges to be faced in making these choices, whether on an economic or social level. I'm so glad we can gather here and discuss healthy food together!