I made these super healthy salt and vinegar kale chips the other night before dinner, and was shocked, I mean absolutely shocked, that my children ate them. Not only did they boys eat these, they loved them. Trust me, while these kale chips are healthy, this is a sophisticated flavor combination for children.
Also, a word of warning, these gluten free kale chips are very salty. So, if you don't care for salt as much as we do in this household, take your salt down for this recipe. You may also want to try experimenting and increasing the apple cider vinegar if the flavor of mouth puckering sour is your thing.
I know these kale chips may sound very healthy and not all that appetizing, however, just so you know, they lasted all of 4 minutes in my house and when I looked at the platter I had served them on, the boys had divided them up into "sides," as in this is MY side, and that is YOUR side. So all I can really say is, hooray for healthy Salt and Vinegar Kale Chips!
Salt and Vinegar Kale Chips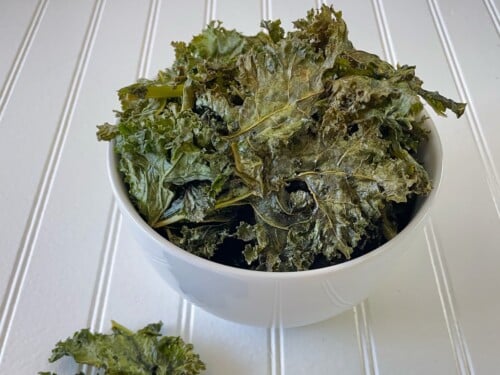 Print
Email
Pin Recipe
Instructions
Tear kale into 3-inch pieces, discarding stems

Drizzle with olive oil and vinegar, then sprinkle with salt

Massage seasoning into kale

Bake at 375°F for 10-15 minutes until dry and crispy
Here are some more kale chip recipes you might enjoy:
–Kale Chips (with nutritional yeast, tamari and sesame oil) from Cooks4Seasons
–Wasabi Garlic Kale Chips from Affairs of Living
–Kale-Dust from Smitten Kitchen
–Lemon Kale Chips from Elana's Pantry