This Roasted Banana Coconut Ice Cream is naturally-sweetened, vegan, gluten-free and made with only five ingredients (don't be scared by all the descriptors). I've based this healthy ice cream recipe on one from Karina's Kitchen.
This ice cream is fairly easy to make; there are just a couple of steps involved. And I can tell you Roasted Banana Coconut Ice Cream is mighty tasty and my children love it –we hid it from my husband because we wanted more for the three of us –he's been traveling a ton, so it was easy to keep it a secret.
Roasted Banana Coconut Ice Cream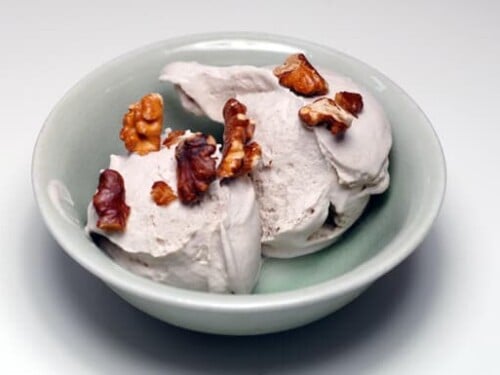 Print
Email
Pin Recipe
Instructions
Drizzle with vanilla and coconut oil

Bake at 375°F for 35 to 45 minutes, until bananas begin to caramelize and smell fragrant

Place banana fixins and coconut milk in

vitamix

and puree on highest setting until smooth

Top with nuts, berries or sprinkles and serve
I hope you all enjoy this quick and easy, healthy frozen dessert recipe. I love that it meets the needs of of people on gluten-free and dairy-free diets. If you're wondering how to make ice cream without an ice cream maker, see my quick and easy 2-Ingredient Banana Ice Cream recipe.
I am very happy to announce that I have been chosen as Chef of the Month by The Organic Dish. They are a business that creates ready to eat meals from organic and farm fresh ingredients and the owners are amazing, fabulous people.
For July, (amongst their many other delicious entrees) they are featuring my Roasted Salmon with Anchovy Olive Tapenade. Beckie, the owner, asked me to contribute this recipe since wild salmon is in peak season during July. This is the way these people think and I like it!
During my visits to the Organic Dish, just around the corner from Whole Foods and Vitamin Cottage in Boulder, I picked up some other meals in order to get an idea of their food. My children scarfed everything I brought home, especially the latkes.
Thanks Beckie and Toby. I think your zero waste business using organic ingredients is a fantastic model and I love working with you!