During the holidays I'm always looking for yummy treats to eat that won't leave me with a high-carb hangover. This paleo dessert recipe for a moist, gluten free fruitcake fits the bill. Sweetened with one tablespoon of coconut sugar, along with dates, raisins and dried cherries, my Paleo version of this classic treat is great with a cup of tea, Dandelion Root Coffee, or makes a beautifully simple gift to give to friends and neighbors during the holidays.
According to Wikipedia, fruitcake is:
A cake made with chopped candied fruit and/or dried fruit, nuts, and spices, and (optionally) soaked in spirits. A cake that simply has fruit in it as an ingredient can also be colloquially called a fruitcake. In the United Kingdom, certain rich versions may be iced and decorated. Fruitcakes are often served in celebration of weddings and Christmas.
Along with visions of wacky people, the word "fruitcake" can also conjure thoughts of dry, icky cake. I think you'll be pleased to find that this easy Paleo recipe is rich and moist –a Christmas Cake recipe that is versatile enough to use all year round.
Paleo Fruitcake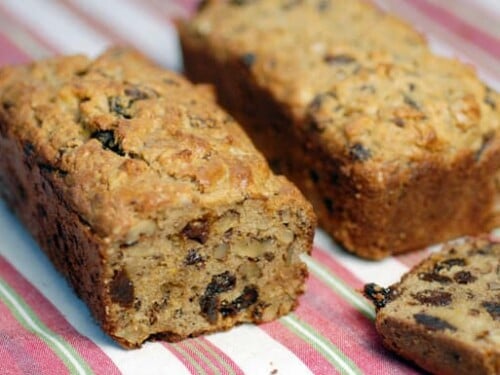 Print
Email
Pin Recipe
Instructions
In a

large bowl

, combine almond flour, salt and baking soda

Stir in dried fruit and nuts

In a

medium bowl

, combine eggs, oil, coconut sugar, vanilla and citrus zest

Stir wet ingredients into dry

Bake fruitcakes at 350°F for 20-30 minutes

Cool and serve
I think this might be my first Paleo cake recipe. I could be wrong though. What Paleo grain-free, dairy-free desserts will you be serving this holiday season?