Did you know that I am obsessed with all things muesli? I have a recipe for muesli bread in my book, and I make just about everything else I can with muesli. While traditionally muesli has oats in it, I make mine grain free, as I follow as diet that is very close to Primal/Paleo.
So what exactly is muesli? According to Wikipedia, it is a "popular breakfast cereal based on uncooked rolled oats, fruit and nuts. It was developed around 1900 by Swiss physician Maximilian Bircher-Benner for patients in his hospital. It is available as a packaged dry form, or it can be made fresh."
These scones have my favorite little muesli combination of dried fruits and nuts, and are the perfect vehicle for fellow muesli addicts. I am about to sit down and enjoy one for my afternoon snack with a cup of Dandelion Root Coffee.
Muesli Scones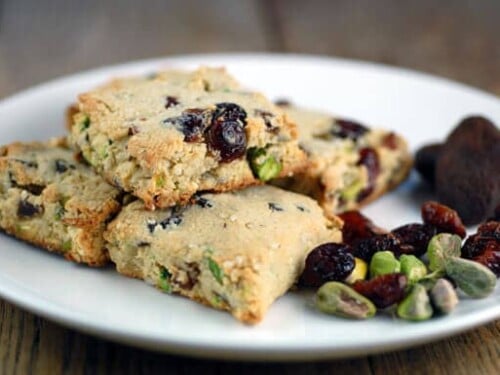 Print
Email
Pin Recipe
Instructions
In a

large bowl

, combine almond flour, salt and soda

Stir in dried fruit, seeds and nuts

Stir wet ingredients into dry

Use your hands to form dough

Shape dough into a 6½ x 6½ square that is about ¾-inch thick

Cut dough into 16 squares

Serve
You can "mix it up" by using different dried fruits and nuts for this muesli scone recipe and coming up with your own favorite combination. Please remember though, to share your results with us in the comment section below as I'd love to hear all of your ideas for variations and adaptations of this recipe.