I based this Lemon Basil Cookies recipe (and photo) on one from Bon Appetit for Lemon-Lime Basil Shortbread Cookies. As you might expect, these are gluten-free, grain-free, sugar-free, dairy-free cookies. I used the same flavor profile as the Bon Appetit recipe, though decided not to make mine a shortbread cookie.
I've used coconut butter as the fat in this cookie recipe, which I learned to do from Jessica at one of my all time favorite blogs, inphyusion.com. Make sure to check out her site as she has quite a few incredible raw, plant-based recipes.
Lemon Basil Cookies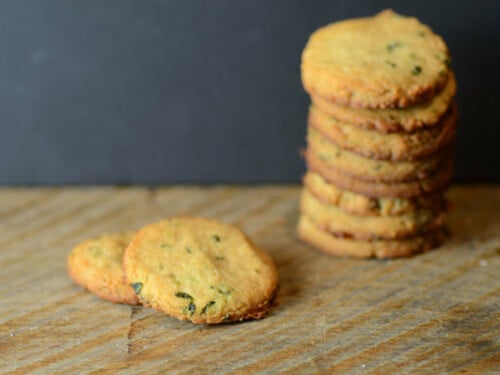 Print
Email
Pin Recipe
Instructions
Pulse in coconut butter, honey, basil, and lemon zest

Press balls of dough down to flatten

Bake at 350°F for 6-10 minutes

Cool for 2 hours

Serve
If you would like to make a super duper fuss over your cookies (as I did for the photo above), trim their edges with a [cookie cutter 2 inch]. Normally, if not photographing the cookies, I would not undertake this step. It's way too fussy for me.
I may be posting a bit less frequently during the next couple of weeks as we are moving and I am in the process of packing my entire house (and therefore my kitchen) into boxes. Last night the boys were busy packing up their own rooms. Wish us luck and enjoy the cookies.
Here are some grain-free cookie recipes from other bloggers:
Almond Butter Banana Cookies from George at The Civilized Caveman
Chocolate Chip Cookies from Joshua at Slim Palate