Don't try this at home! I highly recommend keeping the animals far away from the food. My little bunny lives in our house –he roams the family room and kitchen and he thinks he's a dog.
He kept me company today during hours of culinary exploration. As I chopped mountains of vegetables, every now and then I threw him a scrap under the kitchen table. Today he dined on parsley, jicama peels, carrot tops and celery.
He became quite excited when I set the beet salad on a low bench to stage it for a photo shoot. Luckily I shooed him away before he could make any trouble. That dish was not meant for him and he did not get quite as close as it looks in the photo above. Rest assured, there was no contact between bunny and dish. He was attempting to peer into it, the nosy little thing!
Last week, the New York Times hyped up the nutrition of beets, calling them the new "spinach." The recipes they offer are for cooked beets, which is fine enough, however, during summer I like to eat as much raw food as possible. Why change what is already in a state of fresh perfection?
Beets are one of my favorite veggies and the salad below is a summery and refreshing dish that I like to serve for dinner and especially as a side at picnics and barbecues.
Jicama, Beet and Carrot Salad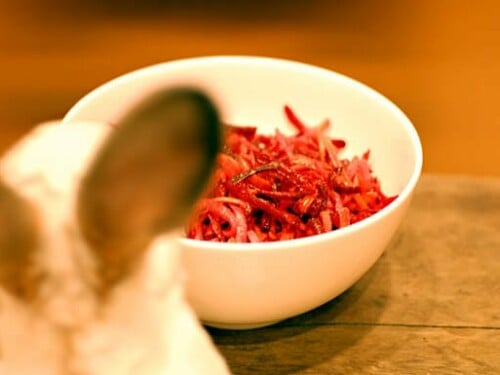 Print
Email
Pin Recipe
Ingredients
1

cup

jicama, grated

1

cup

carrots, grated

1

cup

beets, grated

2

tablespoons

orange juice, freshly squeezed

1

tablespoon

lime juice, freshly squeezed

¼

cup

olive oil

¼

teaspoon

celtic sea salt
Instructions
In a

large bowl

, combine jicama, carrots and beets

In a glass jar, combine orange juice, lime juice, oil and salt; shake well

Toss dressing into salad

Serve
Equipment
I hope you find this salad to be as interesting as my house rabbit
did!