My Instant Dandelion Latte is the answer when you're traveling or on the go. It's the quick and easy version of my incredible Dandelion Root Coffee.
Easy Dandelion Coffee
The health benefits of dandelion root, a fantastic liver cleanser, are numerous. When ground and roasted it makes a wonderful coffee replacement. I first introduced Dandelion Root Coffee as a substitute for traditional coffee here on my blog in early 2011, though this healing beverage has been part of my routine for far longer.
The Best Coffee Substitute
Usually, I make my dandelion coffee from scratch. If you're wondering how to make dandelion coffee, it's easy. I purchase dandelion root
online, roast it in the oven, and then grind it in a coffee grinder or vitamix and steep it with ground chicory root
to make a wonderful coffee substitute.
Instant Dandelion Latte
While we were up in the mountains over the holidays I was without my usual supply of ground dandelion root. Instead, I used dandelion tea bags to make dandelion coffee and get my fix of this wonderfully healing hot drink. Compared to the method above (roasting, grinding, and steeping), the instant route, using tea bags, is a breeze. I use several dandelion tea bags to make a "black coffee."
When I want something fancy I whip up this Instant Dandelion Latte, a satisfyingly rich and creamy drink that's also a great liver cleanser. I often post photos of this scrumptious drink on Instagram and each time I do I get requests for this quick and easy recipe. Here you go!
Instant Dandelion Latte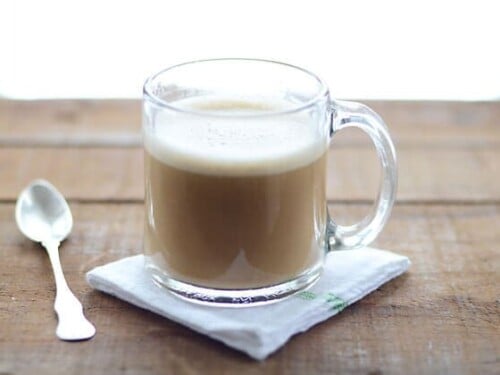 Print
Email
Pin Recipe
Instructions
Equipment
I have made double and triple batches of this recipe all at once. I simply steep the tea bags in a mason jar
. The recipe is scaled up easily. If you are curious why I use 4-5 tea bags in this recipe it is because dandelion tea is just that, tea, and to get a nice strong coffee requires more product.
Dandelion Coffee for Cleansing
We drank this with friends on New Year's Eve instead of alcohol as all of us had started cleanses well before that night. The four of us went straight for the detox and skipped the retox entirely! If you want to spike this Instant Dandelion Coffee, I imagine it would be incredible with a shot of Kahlua.
I use four Traditional Medicinals dandelion tea bags
and one Teeccino tea bag in the recipe above, however, you can use 5 Superherb dandelion tea bags
in place of the two aforementioned brands.
Healthy Low-Carb Drink Recipes
For truly wonderful liver cleansing, try making this healing drink with my Dandelion Root Coffee in place of the tea bags. When the dandelion in that recipe is brought to a boil and then simmered, even more nutrients and healing properties are released from the dandelion root. If you're looking for other healing beverages for winter, try my Paleo Chai Latte. As always, if you are going to take herbs or supplements consult with your physician or medical practitioner prior, especially during pregnancy and breast feeding.